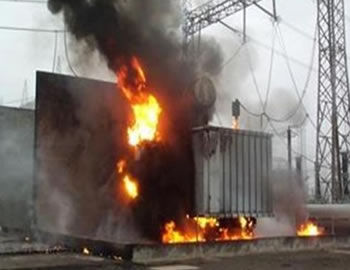 Managing Director of Enugu Electricity Distribution (EEDC) PLC, Okey Nwosu, has said that not less than 10 distribution transformers around the Onitsha Business District were destroyed by vandals in 2018.
Nwosu who was represented by Head, Security of the company, Mr. Frank Ejiofor said this at a Customer Forum organised for its customers in Onitsha, Ogidi and Ogbaru area on Saturday.
Nwosu said EEDC was still doing its best to ensure customers enjoyed the best service delivery possible anywhere in the country in spite of the operational challenges.
He expressed worry over the spate of vandalism of EEDC installations and assault of its staff while discharging their duties.
The Chief Executive Officer explained that most outages experienced by customers were as a result of activities of vandals and those who engaged in energy theft.
Also speaking, Head Health, Safety and Environment, Mr Francis Iwu, harped the need for people to stop erecting buildings under high tension powerlines.
Iwu said such practices were suicidal, adding that distribution companies have been directed by Nigerian Electricity Management Services Agency (NEMSA) to disconnect buildings in violation of the power line Right-of-way.
ALSO READ: PDP condemns attack on agents, members in Kano supplementary election
He cautioned against engaging non-EEDC staff in carrying out operations in the network and also against the use of substandard electrical materials, to avoid loss of lives and property.
On his part, Head of Communication of the company, Mr. Emeka Ezeh, explained that the meeting was part of the company's engagement strategy to feel the pulse of customers.
Ezeh called for prompt payment of bills by customers to enable EEDC to be efficient in its operations.
"We are appealing to customers that are clamouring for the prepaid meter to be patient as the Meter Asset Provider (MAP) which has been designed by the Nigeria Electricity Regulatory Commission (NERC) to hasten the metering process will soon commence.
"Customers can approach the meter providers and procure their meter," he said.
One of the customers at the event, Mr Celestine Okonkwo commended EEDC for the improvement in power supply.
Okonkwo, however, complained about exorbitant bills and epileptic supply caused by faulty transformers and called on the company to take urgent stepts to address the challenges of electricity users in the area.
The post '10 transformers vandalised in Onitsha business area in 2018′ appeared first on Tribune Online.