By Omeiza Ajayi
THE All Progressives Congress, APC, has accused the Independent National Electoral Commission, INEC, of leaking to the public, a letter written by its National Chairman, Comrade Adams Oshiomhole.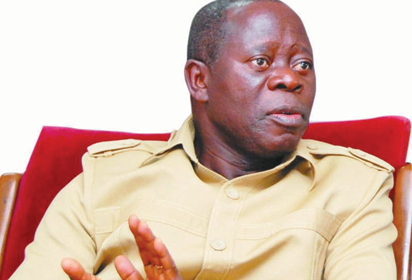 Oshiomhole
It added that the commission had been divulging sensitive official exchanges to the media.
Acting National Publicity Secretary of the party, Yekini Nabena in a statement yesterday in Abuja, said the party's attention had been drawn to a leaked letter written to the commission by Oshiomhole informing the electoral umpire of the congresses and primaries.
He said: "These leaks of our sensitive and confidential correspondence to INEC is becoming commonplace and totally unacceptable. We strongly request that INEC looks into its internal handling of official correspondence and put a stop to these leaks.
"While the leaked formal notification to INEC has been done by the APC pursuant to the provisions of Section 85 of the 2010 Electoral Act (as amended), we advise the public particularly the media to wait for an official announcement from the party as the leaked dates are subject to changes, if necessary.".
Saturday Vanguard learned that the party is set to convene a National Executive Committee, NEC, meeting next week to approve dates for the conduct of its congresses and primaries to elect candidates for the 2019 general election. It was gathered that the National Working Committee, NWC, of the party was considering next Wednesday for the all-important NEC meeting which would be the first since the Oshiomhole-led NWC came to power.
The date for the NEC is however subject to change.
Political parties are expected to conduct their congresses between August and October 2018.
APC had earlier proposed to conduct its congresses and primaries between September 8 and 29 with the presidential primaries slated for September 19.