By Victor Ahiuma – Young
Organised labour, yesterday, lamented  what it described as the parlous state of workers across the country, saying 35 states were unable to pay salaries or other entitlements.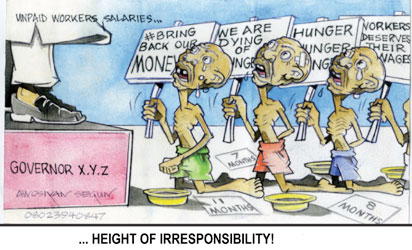 "We want to say without fear of contradiction that the only healthy state in this country that has no arrears of salaries and other wages or unpaid benefits is Lagos State. All the other (35) states have one issue or the other in term of salaries, wages or benefits of their workers that have not been paid", the President of Trade Union Congress of Nigeria (TUC), Bobboi Kaigama, said on the sideline of the National Executive Council (NEC) meeting at the body in Lagos.
"There is no exception. You will find out that if it is not one month salary that is not paid, it will be 13 months of gratuities or pensions that have not been paid. Or that contributory pension deductions are not being remitted, or that there are certain promotions arrears and death benefits that have not been paid. So, I am telling you, taking this issue holistically, we can only say Lagos State government is the only healthy state in this country.
"We keep saying that if state governors cannot meet their obligations to their workers , they should just resign and leave the stage. We have continued to argue that apart from the first generation states that were created by the military, there is no state that was created there after that did not have its submission that the state had the capacity to pay the wages of the workers in the state and other things. Ours is that probably those who are saying that we should go back to regional government are not misplaced because the trust we have on state government has been eroded .
So, if it is just for the purposes of payment salaries , no other developmental issues like infrastructure, health facilities, roads, rails transportation and so on, we are better off with regional government.
Then, we did not have the oil that we have today. We only had our agricultural resources, solid minerals that we developed and funded. The first generation universities in this country , the cocoa house we had in Ibadan, the first television in Africa and a host of other investments of the regional governments. Today we cannot vouch for states".
On if states that have not paid the existing N18,000 minimum wage could pay a new minimum wage expected to be higher than the current one, the TUC President said:
"If we are talking of none payment of salaries, it is a case of corruption and not a case of the funds not there or available. Because for the state governments, first, we had the case of bailout, we had a case of budget support funding, we had a case of first, second and even third tranches of the Pais Club refunds.
At every point, the emphasis of President Mohummadu Buhari to the governors was please, go and ensure that you settle your workers salaries and other benefits. If you are done with that, you can now go ahead and fund other projects. But the contrary is the case. So, in Nigeria, the check and balances in terms of accountability is very weak. So , we need to strengthen and develop our institutions particularly the ICPC and EFCC so that people are made accountable to the electorate and people they represent .
"It is not that they cannot afford to pay current minimum wage, but a case of people that are deeply involved in corruption and are not prepared for selfless service to their father land, but are only prepared for self-service. Otherwise, we have enough money in this country, we have enough resources to pay workers' salaries and other benefits, as well as embark on developmental projects. So, the argument that the funds are not there is not tenable.
We still insist that any governor that cannot afford to pay wages among other things, there are more serious Nigerians in those states that are prepared to govern those states without recourse to all forms of excuses"
On the new minimum wage, he said: "Yes, we are very positive that we will meet the time frame that we set for ourselves. First and foremost, the initial work plan was to extend to 2019. The committee unanimously agreed that no, and that the highest it can go is the third quarter of this year. And everybody is involved .
The representatives of the state governors based on their political regions are on the committee. The representatives of organised private sector are on the committee. The representatives of the organised labour are on the committee. I think the caliber of people in the committee are people that will deliver on or before the third quarter of this year. We are positive about that and strongly advised our representatives to work towards the targeted time."
In a communique, the TUC NEC members decried the deteriorating power supply in the country and resultant economic losses, and urged the Federal Government to declare a state of emergency in the power sector.