Sergio Aguero has revealed the sides club coach Pep Guardiola will be rooting for when the World Cup begins.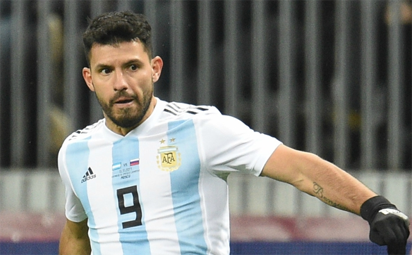 According to Aguero, Guardiola will pefer to see either Spain or Argentina lift the World Cup come July 15th.
Aguero is with international teammates in Manchester but may not participate tonight in the friendly against Italy due to injury.
When asked what expectations Pep Guardiola has for the World Cup he said, "Guardiola wants Spain to win the World Cup and, if not, Argentina,"
"He tells me that if I'm good, Argentina has many chances to win.
"He's happy with the performance I'm having. He is very demanding in everything, serious on the court.
"Because the season has not yet finished and with the Premier League under his arm, he has the illusion of the Champions League.
"He told me to take care because there are important games."
Aguero and teammate Lionel Messi are among the stars who will light up the 2018 FIFA World Cup that kicks off June 14th.
The post Aguero reveals who Guardiola wants to win the World Cup appeared first on Vanguard News.