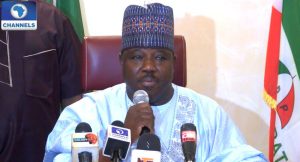 A Federal High Court sitting in Port Harcourt has on Friday, ruled that the caretaker committee headed by Senator Ahmed Makarfi is illegal and cannot act on behalf of the Peoples Democratic Party (PDP).
The judgement, read by two of the three judges on the appeal panel, set aside the judgement by the High court in favour of Ali Modu Sheriff. The lead Judge, B. A. Sanga, in his judgement said that due process was not followed in the decision by the PDP convention to dissolve the Ali- modu sherrif's led chairmanship and hence should be disregarded. Meanwhile a dissenting judgement was given by a third judge, Theresa Orji-Abadua, who upheld the decision of the trial court in favour of the Ahmed Markarfi leadership of the party The Ali-Modu Sheriff faction, was dissolved by some leaders of the party at a national convention held in Port Harcourt in 2016.
Agents Of Darkness
This is coming barely 48 hours after Ali Modu Sheriff took his farmiliarisation tour to Delta state, where he held a town hall meeting with party members in Agbor. In 2016, the PDP had described the faction of the party as "
agents of darkness
", insisting that the former Governor of Borno State, is not the Chairman of the party.