Arsene Wenger has one last chance to salvage the worst year of his Arsenal reign and potentially save his job when the beleaguered Gunners boss faces AC Milan in the Europa League on Thursday.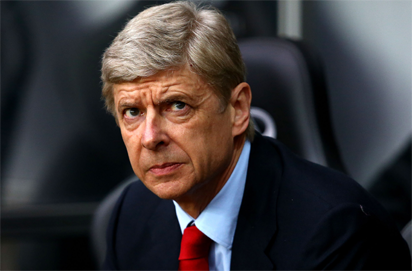 Wenger has presided over a miserable campaign that threatens to bring a painful end to the Frenchman's near 22-year spell in north London.
Battered by a wretched run of eight defeats in 13 games, Arsenal were outclassed by Manchester City in the League Cup final and saw their FA Cup defence ruined with a shock defeat at second-tier Nottingham Forest.
A 2-1 loss at Brighton on Sunday was Arsenal's fourth successive defeat in all competitions and left Wenger's side 13 points adrift of the Premier League's top four and 33 points behind runaway leaders City.
Furious Arsenal fans chanted "we want Wenger out" during the Brighton debacle.
And, although criticism for the 68-year-old is nothing new, the opprobrium has risen to unprecedented levels this term as Arsenal's decline has become ever more apparent.
Wenger suffered foul-mouthed abuse while boarding a train home from a defeat at Stoke back in 2014 and was subjected to sustained calls for his sacking before signing a new contract at the end of last season.
But even those torrid times seem tame in comparison to the current tidal wave of angst engulfing Wenger.
Support for Wenger has waned so dramatically that 88 per cent of the Arsenal Supporters' Trust's 1,000 members on Monday voted in favour of his contract being terminated at the end of the season.
"The responses to our survey showed huge affection and respect for Arsene but also the view that he is no longer taking Arsenal forward," said an AST spokesman.
"Our message to the club is that they must be proactive and take the decision sooner rather than later."
That would be a bitter conclusion for Wenger, who for so long was heralded as the club's greatest ever manager but is now in danger of leaving with a severely tarnished legacy.
Greeted by sneering newspaper headlines that asked "Arsene Who?" when he was hired as a relative unknown in 1996, Wenger blazed a trail through the Premier League with his commitment to sports science and a world-wide scouting network that far eclipsed those of Arsenal's rivals at the time.
– Powerbase eroded –
He led Arsenal to three Premier League titles, including the incredible 'Invincibles' campaign in 2003-04, while also reaching the 2006 Champions League final and winning seven FA Cups.
But once Wenger's competitors caught up with his ground-breaking methods, he was unable to adapt.
While Alex Ferguson built several great teams over his Manchester United reign, Wenger's second act was less edifying once iconic players like Thierry Henry, Patrick Vieira and Dennis Bergkamp moved on.
Ironically, Henry hardly helped Wenger last week when he made it clear he would be interested in succeeding his old boss.
"If you love a place and they ask – I repeat, they ask – for help, you are always going to say yes," Henry said.
Wenger has already seen his powerbase eroded by the recruitment of Raul Sanllehi from Barcelona as head of football operations and a new chief scout in Sven Mislintat from Borussia Dortmund.
Yet he is said to have told his coaching staff he will resist any attempts to get him to agree to a dignified exit this summer, potentially forcing American owner Stan Kroenke to sack him.
Wenger has one year left on his contract, but it is hard to believe he will be allowed to depart on his terms if Arsenal miss out on Champions League qualification again.
The only remaining hope for silverware, and a return to the Champions League, is to win the Europa League, with Arsenal's first leg of their last 16 clash against Milan at the San Siro on Thursday.
Wenger will have noted that, despite their status as one of the giants of European football, Milan — seventh in Serie A — are faring as badly as Arsenal this season.
Given Wenger's failures in Europe — he has never won a continental competition with Arsenal — it would be bleakly appropriate if a loss to Milan proved the beginning of the end.
The post 'Arsene Wenger has one last chance to salvage the worst year of his Arsenal reign' appeared first on Vanguard News.