Awka – A football coach in Anambra, Benson Udeh, who has been bedridden since 2016 following an auto crash has appealed to Gov. Willie Obiano for more assistance.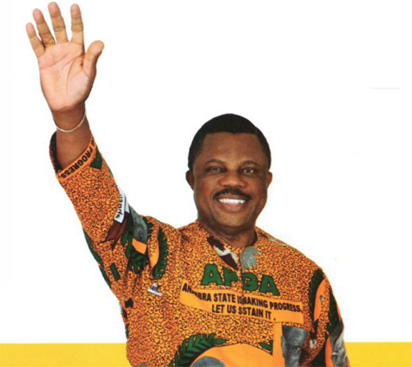 Udeh also thank the governor for assisting him immediately he had the accident in 2016.
He was leading his team, Aguluezechukwu Secondary School football team to the final of Anambra Academicals competition when their vehicle crashed on Oba-Nnewi road.
Udeh expressed appreciation when some members of Sports Writers Association of Nigeria (SWAN) visited him in his residence in Awka.
The coach, who was down with spinal cord injury was immediately admitted to Ojukwu University Hospital before he was transferred to Memphis Orthopedic Enugu and Later to University of Nigeria Teaching Hospital (UNTH).
Udeh thanked Obiano for his speedy response to his medical challenge and footing the bills in the early stage of his predicament.
He said the commissioners in-charge of Education, Sports and Health were helpful to him but lamented that his situation had been protracted that it looked like he had been abandoned.
The ailing coach told sports writers that he had since relocated to an apartment in Awka after spending months at the hospital without care due to lack of payment.
"I am happy that Gov. Willie Obiano won this election and has been sworn-in; that has been my prayer because he has showed so much love for sports and to me particularly.
"I was involved in an accident when we were going for the final of the Academicals Football competition which was scheduled about one year after we played the semi-finals when I sustained spinal cord injury.
"The government responded immediately and took care of me, they ensured I was treated at COOUTH and later moved me to Memphis Enugu for a major operation.
"I was later moved to UNTH for treatment of bed sore injuries and again to Memphis Hospital, there has been improvement but I look forward to sit and walk again,'' he said.
Udeh said that he had yet to fully recuperate because of lack of care as he depended on handout from friends and families to survive.
He said he sourced money from family members to pay himself out of the hospital after doctors abandoned treating him on the claim that the state government was not paying the bills anymore.
The coach cried out that his bedsore was coming back because of lack of treatment and that he could not pay for Physiotherapy.
"I am hopeful that I will come back to normal, I still want do what I like doing which is training and developing young talents.
"Gov Obiano has tried for me, his commissioners have also tried for me but the journey is not over yet, I beg him not to give up on me.
"I still need assistance, my Water Bed has gone bad, my sores are relapsing, I cannot pay the Physiotherapists that are supposed to work on me,'' he said.
Udeh said being out of sports for two years was like taking a fish out of water and appealed to kind spirited individuals to help him to return to normal condition. (NAN)
The post Bedridden Anambra football coach begs Obiano for more assistance appeared first on Vanguard News.