…urges youths to leverage on opportunities being created in the state
Governor of Edo State, Mr Godwin Obaseki has said that three co-developers have signed up for the development of the Benin Industrial Park, as a projected 1000 companies are expected to be hosted at the facility on completion.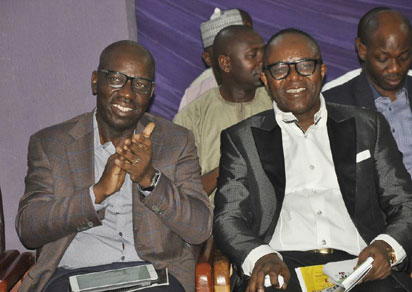 Obaseki said this while speaking at the Edo State Youth Leadership Summit 2018 themed: "Switch: A transition in Excellence in Selfless Leadership," held at the Precious Palm Royal Hotel, Benin City.
The governor said that his administration is focused on developing and providing opportunities for youths. He added that reforms in the state have created a conducive environment for youths to utilise their potentials and contribute their quota to the development of the state and the nation at large.
Obaseki said his government is implementing policies to create a friendly atmosphere, which is attracting investment that will create the 200,000 jobs he promised Edo people.
"We have huge advantage in Agriculture. Three groups have registered to be co-developers and by October 2019 the first tenant will move in. When the park is ready, we will have over 1,000 companies in that park, generating an excess of $3 billion annually."
He said the state is building youths' capacity to exploit opportunities in the state, noting that in the last 16 months, his government has created about 60,000 jobs in Agriculture, infastructure, and industries.
Obaseki commended the leadership style of President Muhammad Buhari, who has kept the country united, adding that the amount of looting perpetrated by previous administration was capable of breaking the nation.
Minister of State, Petroleum Resources, Dr. Ibe Kachikwu, said the administration of President Muhammad Buhari is in a hurry to restore hope in Nigerian youths as they have lost hope in the nation.
"Nigeria remains one of the most resourceful nations in the world in minerals and human capital but dishonesty, disrespect and corruption have kept us in our present position," Kachikwu said.
He said the government believes in the youths and sees them as the leaders of the nation, hence, is committed to policies that are creating a conducive environment for the youths to utilise their potentials and contribute their quota to the development of the nation.
Kachikwu said the biggest employer of labour is the agricultural sector which the federal and Edo State governments are leveraging on, to build a viable economy.
The CEO of Sahara Energy, Mr. Tonye Cole, called on youths to dream big, as everything needed to excel is within and around.
He said Nigeria is blessed with endless possibilities, calling on the youths to identify their purpose in life, believe in themselves and contribute their quota to the development of the nation.
The post Benin Industrial Park: 3 Co-developers sign up appeared first on Vanguard News.