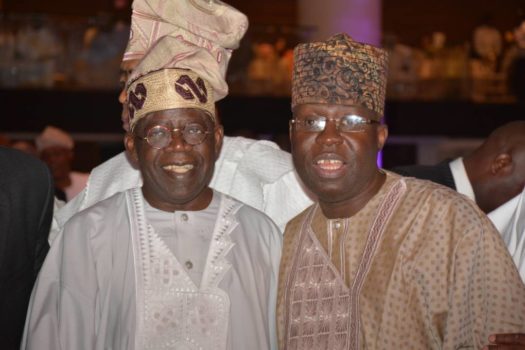 Only a few men get lucky enough to have their lives being celebrated while they are alive. But for some of these men, it is more than luck. They are simply so great that the world cannot afford to wait till they are gone before they are celebrated.
Asiwaju Bola Ahmed Tinubu is one man whose life and legacy in business and politics continue to be a source of attraction for many of us.
It is that time again when the world celebrates his birthday and as usual, several annual events have been ongoing in that direction.
According to INEC, Youth – 18 and 35 years – constitute the highest number of voters with 51.11 percent at 42,938,458 voters.
This means that out of the 84 million registered voters in Nigeria today, 51.11% were either unborn or were kids in 1993 when Asiwaju Bola Tinubu came into limelight.
Perhaps, this 67th birthday is a good time to tell the youths a bit about their history, which is incomplete without this man we love to call by one his several traditional titles – Jagaban.
From the private sector, Tinubu won the 1993 election as the Senator representing Lagos West constituency on the platform of Social Democratic Party (SDP).
The military take-over in December 1993 set our generation back and destroyed what was going to be Nigeria's smoothest return to democratic government.
I met Asiwaju during the SDP days. While he won the election in Lagos state as a senator, I also won the election as House of Reps member from Oyo state then as a 30-year-old man.
Since then, the relationship has blossomed. He is a leader, a mentor and an inspiration to me and several of us who have learned a lot from his leadership style.
When the Third Republic hit the rocks, thanks to Abacha, Senator Tinubu, along with several other heroes in exile, with the NADECO movement, fought the military government for the mandate of the winner of the presidential election, Chief MKO Abiola to be restored.
We lost the battle to have Abiola sworn in as president because in 1998 the great man died, but NADECO never lost the war. In 1999, Nigeria returned to what we now enjoy as our longest ever run of democratic leadership.
Tinubu was elected governor of Lagos state on the platform of Alliance for Democracy (AD) and created the master plan for today's Lagos – Nigeria's only true metropolitan mega city.
The test of his ingenuity came in 2003 during the general elections when he contested for a second term.
His fellow AD governors from the southwest had aligned with then President Olusegun Obasanjo of the PDP to secure his second term in office.
After delivering their states in the presidential election, they all lost their governorship elections and PDP took over their states. Only Governor Bola Tinubu was unbeatable. He won his election and remained in office for two terms.
We all saw that there was more to this man than just his generosity, he was also a political genius.
After the political crash-landing, Tinubu's doggedness saw to the rebuilding of the progressive movement in the southwest and it dawned on many that the Yoruba race might have unearthed a true leader they had needed since Obafemi Awolowo.
Tinubu ensured that the southwest remained relevant in all political permutations at the federal level.
Only few Nigerians will forget his tenacity during that epic battle with the Obasanjo government that stood against the creation of LCDAs in Lagos. For Tinubu, the development of his people was more important than anything else.
Still wondering why his fame grew beyond his generation? Wondering why he is loved and idolized by millions of Nigerian youths? He defines his leadership by the number of people he has empowered.
The day he amazed me was at the end of his tenure as Lagos state governor in 2007, when he sacrificed his ambition to return to the Senate and relinquished the senatorial ticket to Ganiyu Solomon to make peace within the party.
This is what true leaders do. This culture of sacrifice, loyalty, compromise for common good and selflessness is why Asiwaju Bola Ahmed Tinubu has remained not just relevant but pivotal to Nigeria's democracy.
This is why he remains one of the biggest icons of modern democracy in Nigeria and indeed the African continent.
Rilwan Adesoji Akanbi is Senator Representing Oyo South Senatorial District
The post Bola Tinubu: His legendary exploits, his politics, his leadership appeared first on Tribune Online.