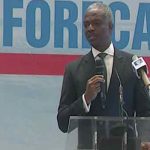 A member of the Adjunct Faculty of the Lagos Business School, Mr Doyin Salami, has expressed concern over Nigeria's population not growing in conformity with the economy.
Salami made this known in Lagos during the Nigerian Maritime Administration and Safety Agency (NIMASA) public presentation of the maritime forecast for 2018/2019.
"We are coming out of a recession, but the fragility of the Nigerian economy cannot be understated," he said on Tuesday.
According to him, the newly released figures of the economic growth for last year compared very favourably with 2016's report of the economy shrinking.
His comments come shortly after the National Bureau of Statistics (NBS) released the statistics of the economic growth for last year.
In 2017, the Nigerian economy grew at 0.83 percent in GDP is an improvement over the contraction of -1.58 percent which the economy recorded in 2016 during the period of recession.
While many Nigerians rejoiced over the nation's exit from recession, Salami perhaps thinks otherwise.
He strongly believes that the citizens should really be worried at the population growing astronomically not in relation to the economy.
Salami added, "If our population is growing at anything between two and a half and 2.8 percent, then 0.8 percent growth in output, representing an improvement as it does, nonetheless shows the gap that we must fill.
"For us, once the economy continues to improve there are a couple of things that we must also put on the table. The challenge of inflation remains, beyond that the challenge of unemployment also remains."
While the election is a year away from now, Salami wants stakeholders in the economy to address the challenges facing the nation's economy.
The post Business Expert Says Nigeria's Population Not Growing At Economy Rate appeared first on Channels Television.