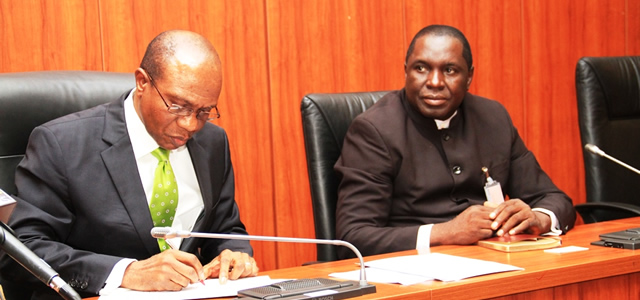 The Central Bank of Nigeria (CBN) has threatened to sanction banks still collecting payments under the Nigerian Content Development Fund (NCDF) without remitting to the dedicated account opened for the fund.
Godwin Emefiele, CBN governor, made this statement at the stakeholders' forum, organised by the Nigerian Content Development and Monitoring Board (NCDMB) in Lagos.
Represented by Jack Ukitefu, a deputy director at CBN, Emefiele said the bank would collaborate with the agency to identify the defaulting banks.
He warned them to close such accounts and remit the funds at their disposal to the dedicated account with the apex bank.
He said the infraction by the bank was a violation of the treasury single account (TSA) policy and promised to punish such banks, adding that the operations of the TSA began in 2015 and that all ministries, departments and agencies should have complied.
Emefiele said CBN will not hesitate to sanction any of the banks identified in the act because it is viewed as a very serious offence.
Simbi Wabote, executive secretary of the NCDMB, said the NCDF was established by section 104 of the Nigerian Oil & Gas Industry Content Development (NOGICD) Act of 2010.
Wabote said the act provided that one percent of every contract in the upstream sector of the Nigeria oil and gas industry shall be deducted at source and paid into the fund.
The act also gives the board the mandate to manage the fund and employ it for projects, programmes and activities directed at increasing Nigerian content in the Oil and Gas industry.
"The board opened up the fund for utilisation from 2013, based on the approved operating model that segmented 70 percent of the fund to finance commercial interventions and 30 percent for developmental initiatives and activities carried out by the board on behalf of the industry," he said.
"Under commercial interventions, the fund was leveraged to provide 30 percent partial guarantee to commercial banks for loans granted to oil and gas service companies towards financing project execution."
Follow us on twitter @thecableng
Copyright 2017 TheCable. Permission to use quotations from this article is granted subject to appropriate credit being given to www.thecable.ng as the source.
Source: The Cable