Are you satisfied with Super Eagles World Cup programme?
All I can say about the World Cup programme is that the NFF has tried. I think this is the best preparation since we started going to the World Cup. It is left for the coaches and the players to utilise it well. If they follow the programme as presented, we will perform well at the World Cup.
What makes you confident to say we will perform well?
I am saying this because we have young players and we will expose them through the programme we have. It will expose them and build their confidence. It is that confidence they will carry into the first game. The most important match is the first match. What they will do in the first match will go a long way.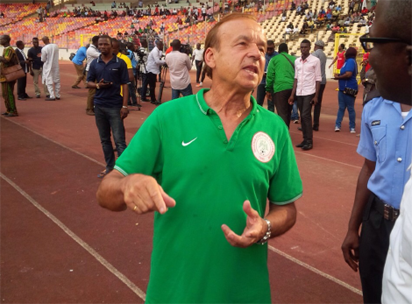 The first match is against Croatia. Do you know that team and do you think the Eagles can overcome them?
Well, for a team to qualify for the World Cup from their continent it cannot be an easy team. We are not underrating them and we don't have to fear them either. It is going to be a very tough and exciting match. The result we get from that match will go a long way in determining Nigeria's fate in Russia 2018 World Cup.
We also have in the group, Iceland and Argentina, our regular customers in the World Cup. Don't you see them as bigger threats than Croatia?
That is why I said the first match is very important. If they do well in the first match, they stand a good chance of doing well in the second match. If they don't do well in the first match,it could affect their confidence. The result of that first  game will determine the level of morale they would carry into the next game.
You have watched the team play a number of times, which department of the team do you think needs strengthening or special attention before the World Cup?
Well, I don't normally go into that because it is Rohr's duty. He wears the shoe and knows where it pinches. My choice may not be his choice, so it is left for him to tinker his team the way he wants. I am not the one to lead them to the World Cup. He is capable and has qualified us for the World Cup, we should allow him to determine who will go to Russia and who will not go.
CHAN Eagles came back recently from Morocco with a silver medal. Do you think any of them is good enough to make Eagles Team A?
First I will commend CHAN Eagles for returning from Morocco with a silver medal, although the final match was not too good and a lot of people were not happy. Basically, we see CHAN Eagles as a backup team to the World Cup team. Fortunately, Rohr was in Morocco with them, he saw them play and I believe they are few players he can add to his main team. But they can only act as back up in case Rohr wants to change anybody from the main team.
If  CHAN Eagles are to act as back up to the main team, how do you see the future of the Super Eagles based on their performance in Morocco?
It will all depend on how well they are going to be managed. If they can manage them very well, allow them 'stay and play' together and expose them; bring in new players to replace fading ones — I have always said the national team is not a permanent place for players, you invite those that are in good shape and drop those that are not in shape and they will become our national team in future.
The post CHUKWU: Rohr knows where the shoe pinches! appeared first on Vanguard News.