Summarise the story of Ademola Adeleke in the words "from grace to glory" and you won't be far from the truth.
Adeleke, senator representing Osun west senatorial district, on Saturday won the governorship ticket of the Peoples Democratic Party (PDP) in his state.
The 58-year-old senator defeated his closest challenger, Akin Ogunbiyi, to emerge the flagbearer of the PDP for the September 22 governorship election.
Adeleke won by a close margin, securing 1569 votes while Ogunbiyi had 1562.
EARLY LIFE
Ademola Adeleke was born to the family of Ayoola Adeleke and Nnena Esther Adeleke, on May 13, 1960, in Enugu.
He commenced his primary education at Methodist Primary School, Surulere, Lagos, after which he relocated to Old Oyo state and attended Nawarudeen Primary School, Ikire. He progressed to The Seventh Day Adventist Secondary School, Ede, also in the then Old Oyo state, and later moved to Muslim Grammar School, Ede.
He later left Nigeria to study criminology at Jacksonville State University, Alabama, US.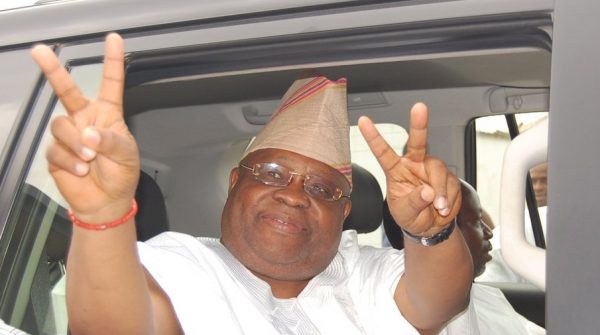 POLITICAL CAREER
While death is a detestable thing, it was what ushered Adeleke into the world of politics.
Adeleke was largely unknown in politics until the death of his older brother, Isiaka Adeleke, on April 23, 2017.
Constitutionally, Isiaka needed to be replaced in the senate and that was when Adeleke came into the scene.
Adeleke pulled a surprise victory in the bye-election. He won in nine of the 10 local governments in the senatorial area, polling 97,280 votes.
He attributed his victory to his late brother, whom he said did 70 percent of the campaign with his "historical goodwill".
The late Isiaka was a very popular figure. He was known as Serubawaon in his political circle.
"I was having fun during the campaign and enjoying my dance because my brother had done 70 percent of the job with his historical goodwill right from when he became an executive governor in 1991. I was always with him. I want to follow his footsteps and may God help me," he had said.
Before venturing into politics, Adeleke was the group executive director at Pacific Holdings Limited from 2001 to 2016.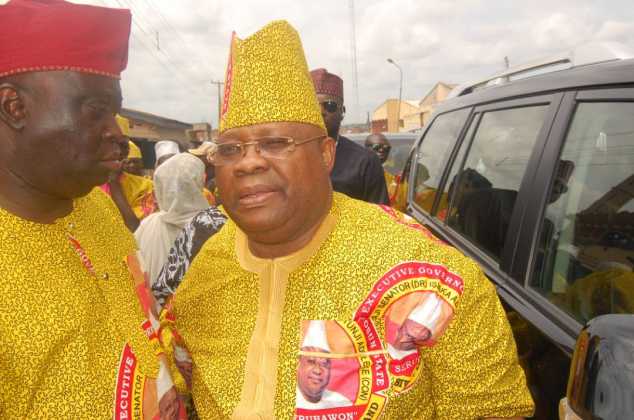 4O DAYS FASTING AND PRAYER FOR GOVERNORSHIP
In April, Adeleke wrote the PDP, declaring his intention to run for the governorship position of Osun on the platform of the party, a seat his late brother was also planning to occupy.
According to him, he sought God's guidance by fasting and praying alongside his family for 40 days before declaring his intention.
"We held a family meeting to seek God's guidance on the governorship issue and we said let all of us pray and fast for 40 days for a divine direction from Him and it was when we got a clear signal that I came out to announce that I will contest the Osun governorship election," he had said.
"During this period of the 40 days of prayers and fasting, we the Adeleke's made a covenant with God that we shall alleviate the suffering of the people of Osun."
DAVIDO'S UNCLE, SHINA RAMBO'S FATHER
Maybe Davido was one of those who fasted and prayed, we cannot tell for a fact.
Adeleke is an uncle to David Adeleke, a Nigerian singer better known as Davido. He is also father to two musicians, B-Red, Shina Rambo.
Davido took to Twitter to congratulate Adeleke shortly after the result of the primary was declared in Oshogbo.
He described his uncle as "the incoming governor of Osun state".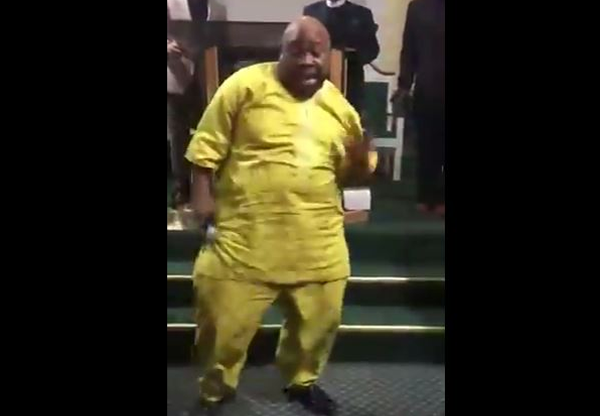 DANCING SENATOR
Adeleke is renowned for his ability to bust a move whenever the occasion demands it, earning him the name 'dancing senator'. He was given the nickname when he did his victory dance upon winning the senatorial seat.
Adeleke said in an interview that he dances to make political campaigns interesting and as a means of exercise.
He also said he taught Davido and his children how to dance.
"My kids got it (dancing) from me, Sina Rambo and B-Red and of course my nephew, Davido. I train them and as a matter of fact, they will tell me that Dad, we can't catch up with you. I love dancing," he had said.
You can watch another of his dance videos here.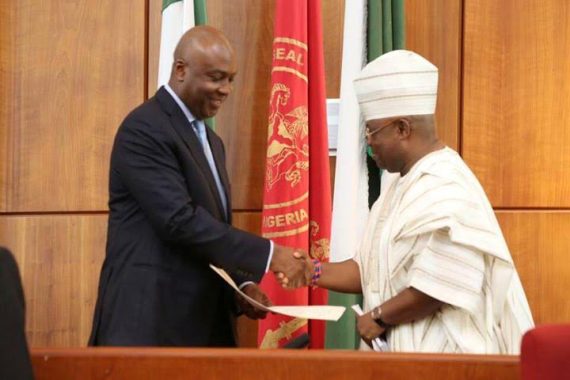 MADE SARAKI SAD
Senate President Bukola Saraki said he was saddened by Adeleke's defection to the PDP.
"I was filled with emotions today as I swore in the brother of Late Senator Isiaka Adetunji Adeleke as senator representing Osun south. I'm sure that my late friend, his family, good people of Ede and Osun West Senatorial District are delighted that the legacy of 'Guv' can continue. I am sure my departed colleague will, in his grave, be happy and filled with joy today and always," Saraki had said.
"My only sadness is that senator Ademola Adeleke is not coming in as an APC member. This is the result of mishandling of the pre-election matters by our party. I hope Senator Ademola Adeleke will very soon return to his natural fold, the APC, where he rightly belongs."
Adeleke had defected from the APC to run as the opposition party's flagbearer a few days to the bye-election.
He was set to contest the primary in the APC unopposed after his opponent, Mudashiru Hussein, was disqualified by the screening committee headed by Sanusi Rikiji, speaker of the Zamfara assembly.
However, a day later, the national working committee of the APC cleared Hussien to contest the primary and Adeleke subsequently defected.
Copyright 2018 TheCable. Permission to use quotations from this article is granted subject to appropriate credit being given to www.thecable.ng as the source.