Italy's new coach will be Antonio Conte or Roberto Mancini or Luigi Di Biagio, Italian federation vice-commissioner Alessandro Costacurta said on Wednesday.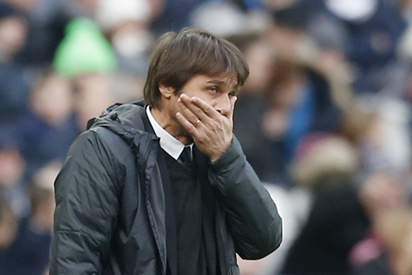 "We plan on appointing the new coach by June. Conte, Mancini or Di Biagio? These are the names, it won't be anyone else," said Costacurta at Italy's Coverciano training camp outside Florence.
Former AC Milan star Costacurta has been given the task of finding a replacement for Gian Piero Ventura, who was sacked after Italy's World Cup exit.
All three are former Italian international players. Costacurta did not mention former Leicester City manager Claudio Ranieri, who has said he would leave French club Nantes if offered the Italy job.
Conte, 48, coached Italy from 2014 to the quarter-finals of the 2016 European Championship before taking over at Chelsea.
"I never said I preferred Conte," continued Costacurta, who had said in an interview this week the Chelsea boss was the number one choice.
"I only said that having already worked with the national team, he has the right characteristics.
"Given we don't have any outstanding talents at the moment, we need a very good coach, and the names I've mentioned are good coaches."
Zenit Saint Petersburg coach Mancini, 53, has said he wants the job to fulfil his dream of winning the World Cup.
Mancini has won silverware with all clubs he has managed. He led Manchester City in 2012 to their first English title in 44 years, and won three Serie A titles with Inter Milan and Italian Cups with Inter, Fiorentina and Lazio, and a Turkish Cup with Galatasary.
Italy Under-21 coach Di Biagio, 46, a former Roma and Inter Milan defensive midfielder, has little coaching experience and has been appointed as interim national coach for friendlies against Argentina and England next month.
Costacurta added that he agreed with Di Biagio, who wants to call up Italy goalkeeping icon Gianluigi Buffon, 40, for the friendlies.
"I agree with Buffon's final contribution for Italy not being that evening against Sweden," he added of Buffon's decision to retire after Italy lost two World Cup play-offs.
"We gave Di Biagio the chance of choosing what he thinks is best for these two friendlies."
The post Conte, Mancini and or Di Biagio on Italy coach shortlist appeared first on Vanguard News.