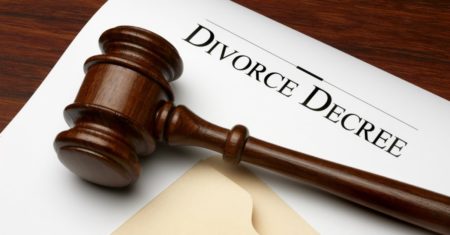 An Ado-Ekiti Customary Court has dissolved a nine-year-old marriage between Ayodele Olaoye and his wife, Oluwatoyin, over religious difference.
Olaoye, 48, who lives life in Odo-Ado, Ekiti, approached the court on Tuesday, seeking dissolution of the marriage.
He said they were not a compatible couple because of the frequent differences between them.
The President of the court, Mrs Olayinka Akomolede, who said he had observed that the marriage had broken down irretrievably, consequently dissolved the marriage.
Akomolede awarded the custody of the children to the wife, ordering the husband to make monthly payments of N5,000 on each of the children as their feeding allowance.
She added that the husband shall be responsible for the education of the children.
Meanwhile, the president ordered the respondent to refrain from abusing, cursing and intimidating the petitioner, who was granted access to see his children.
Earlier, Olaoye said: "I am an adherent of the Grail Message, but my wife has refused to join me after many persuasions from me and my religious leader.
"She sees me as and calls me a ritualist, saying I want to use our children for ritual," he said.
He added that his wife made the home unbearable for him, hence he had to pack out of the house for her.
He, therefore, urged the court to separate them and grant him access to see his two daughters, ages between 4 and 6, whenever he wished.
The respondent, Oluwatoyin, 40, a resident of Moferere area in Ado-Ekiti, admitted that they stopped living together in 2015.
Oluwatoyin, who also denied cursing her husband, however, attributed their marital trouble to religious differences.
"We were attending Mountain of Fire Church before, but he suddenly decided to attend Grail message, which I did not agree with.
"I have not been comfortable with the attitude of my husband since he joined the Grail message. His dressing has changed and sometimes, he talks alone.
The post Court dissolves 9-yr-old marriage over religious differences appeared first on Tribune Online.