By Emmanuel Aziken, Political Editor & Samuel Oyadongha
LAGOS— A major crack in the unity of the Peoples Democratic Party, PDP, governors behind the Senator Ahmed Makarfi-led mainstream of the party occurred, yesterday, after Governor Seriake Dickson of Bayelsa State called for support for the Senator Ali Modu Sheriff leadership.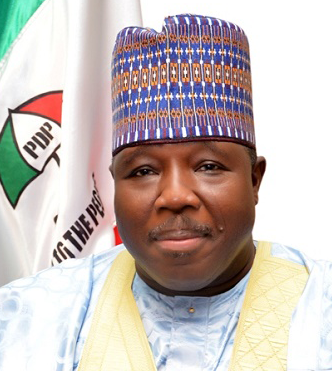 Governor Dickson, chairman of the National Reconciliation Committee of the party described as mere propaganda, the comments trailing the submission of his report to the National Executive of the party.
His assertion nonetheless, the Makarfi-led mainstream, yesterday, denied insinuations that Dickson and Governor Ben Ayade of Cross River State had defected to Sheriff. He said the unity of the governors behind the Makarfi leadership remained unshakeable.
Spokesman of the Makarfi faction Prince Dayo Adeyeye spoke against the background of claims that Governor Ayade had defected to the Sheriff-led faction mainly on account of the latter's loud presence at the Vanguard Awards where Ayade was honoured as Governor of the Year 2016.
Adeyeye said Governor Ayade equally invited Makarfi who could not attend but asked Chief Bode George to represent him.
Governor Dickson in a statement by his Chief Press Secretary, Daniel Iworiso-Markson, denounced what he described as the series of half truths and litany of lies being peddled by some PDP leaders and stakeholders following the recent submission of the report of the reconciliation committee.
While noting that the blame game could only play into the hands of the All Progressives Congress, APC, he said: "Everyone, especially in the PDP Governors Forum, can testify that I never supported Senator Ali Modu Sheriff as national chairman. I strongly canvassed against his choice because he was new to our party.
"I felt that we needed a fresh face for a new beginning. But as a democrat I believe  in the plurality of opinions which made me to tag along."
Now with the Appeal Court judgment affirming him as the national chairman, it is only legal and strategic for all leaders of the party to engage him on a template such as what we have proposed.
Meanwhile, PDP factional spokesman, Prince Dayo Adeyeye said that to the contrary the Makarfi faction continues to impose confidence in Ayade.
"He (Ayade) invited H.E. Ahmed Makarfi but he couldn't go so he asked Chief Bode George to go and Bode George was there. There is nothing to speculate about. We have no reason to believe that he is not with us.
"If you think that there is anyone that is not loyal, let us know and we will be happy to know if the information is correct," Adeyeye said.
The post Dickson wants PDP to engage Sheriff to end crisis appeared first on Vanguard News.