By Chioma Gabriel, Editor, Special Features
Perhaps, you have heard so much about Lagos and you are visiting for the first time, you are so eager, expecting to see this beautiful city of excellence.
Then, you just entered Lagos and you are swayed by the sights that greet you on the way. Heaps of stinking refuse; irresponsible okada riders going recklessly to different directions and water-logged potholes.
Ambode
Indeed, there are many things that make Lagos very attractive for which it became the tourist centre in West Africa. There are the beach resorts, boutiques and nightlife; the National Museum Lagos, displaying cultural artifacts and craftworks and the Freedom Park and other places of interests.
But most of these are fading into the dustbin of history. The beach resorts are being sand-filled and bike riders and mountains of refuse are taking the centre stage in the once beautiful city.
For some visitors like President Emmanuel Macron of France, the first place to go is the New Afrika Shrine located in Ikeja which hosts the annual Felabration music festival.
The roads were cleared and certainly they could not have taken him to the many spots and streets that now tell a different story about Lagos.
One is not surprised by the eye-sore Lagos has become, one is not surprised that Lagos streets are dirty. Lagosians are no longer swayed by the unsanitary conditions and improper waste disposal that litter the streets of Lagos. The authorities  in charge  of keeping Lagos clean seem to be sleeping.
Again, epidemic looms in Lagos
If you are coming into Lagos for the first time either by road or by air, you cannot say for sure what would confront you.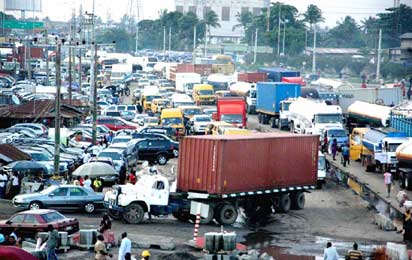 Traffic Gridlock at Mile 2 Bus Stop Along Oshodi Apapa Expressway Lagos
Let's start from the international airport. The pathway to and fro the Murtala Muhammed International airport is riddled with filth. The Lagos State Government has embarked permanently on the reconstruction of the International Airport Road which is generating unbearable traffic on a daily basis. The road is not in anyway associated with the beauty expected of a gateway to the city of excellence. But the constructions are for good and could make one understand. It was however a bad sight before the constructions started. It was different from the sight people normally behold on leaving international airports in other parts of the world. Today, filth is changing the face of Lagos.
The first thing that greets a visitor is the unsightly tankers.
A drive through most of Lagos streets particularly the mainland would shock you. Dirty roads,unsightly and unconventional waste disposal including potholes litter the roads. Most of the roads and the streets have turned to dump sites. Going further into Lagos is an experience. It's a question of filth, dirt and trash everywhere .
Driving through the International Airport Road to Oshodi or to Apapa is a different story. Are you going to Apapa or Mile-Two towards Badagry? Then welcome to hell! It is better experienced than told.
Apapa as a community has died. The beauty of Apapa Ports and the Tincan Island Ports where school children used to go for excursion has ceased to exist.
Welcome to hell and its dead-traps that used to be the beautiful highway from Oshodi to Apapa or from Ijora Bridge to Apapa. It is now a dead-end.
Inside Apapa community
Aliens from neighbouring African countries have taken the centre stage in Apapa and its environs, and turned the once high-brow Apapa into an urchin's Island. Dangerous containers and thousands of bikes (Okada), some driven by aliens from neighbouring African countries have chased other commuters off the road and other occupants and businesses out of the zone. The only business happening here is tanker, trailer and okada business. Many businesses have already moved out and those who have no choice remained to their detriment. It's chaos.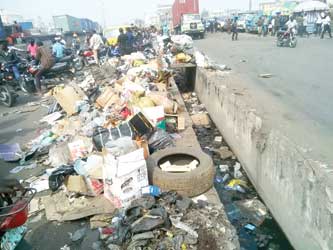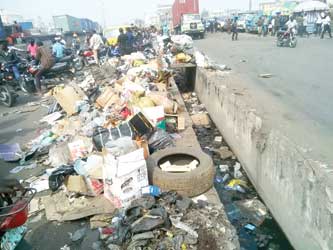 The once beautiful and high-brow Apapa is no more. With tank farms located everywhere, Apapa is an accident waiting to happen.
Welcome to Hell
Apapa is no longer your favourite fun spot where you take your family and friends to hang out for suya. The suya spots are no longer what they used to be and the Amusement Park in basking in lost glory. The Apapa Club no longer attracts the high and mighty from other spheres.
Tank farm owners, containers going into the ports through the dilapidated highways and tankers have taken the beauty and the glory out of your favourite hang-outs. Leventis Stores and other high-brow companies had no other choice than to relocate or die. The beauty of Apapa is no more. The community is nothing but a ghost land where illegal aliens and street urchins hold sway.  Everywhere you turn to, heaps of refuse with their accompanying health hazards are practically waving at you.  Lagos is too filthy and so is Apapa starting from International Airport Road through Oshodi Apapa Expressway to Mile 2, Wharf, Ijora, Olodi Apapa, Berger Yard, and the Apapa community. The dirt is overflowing. Everywhere you look, everywhere you go; from Apapa to Mushin, to Isolo, Okota, Mile 2 Oshodi, Ikeja. Or from Ikeja to Egbeda, to Ikotun, Ejigbo, Festac or Agboju, Amuwo Odofin, Ago Road etc. Everywhere is littered with filth.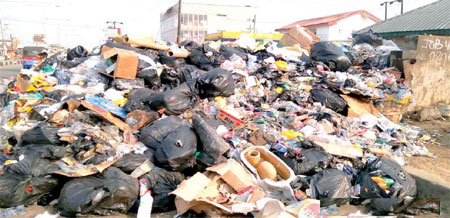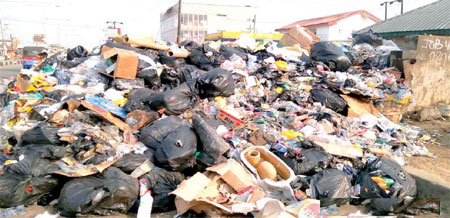 Lagos is currently in regression. It is dirty, filthy and smelly.
Almost every street, junction, major roads and even market places have replaced dustbin sites in the state, with piles and tonnes of dirt littering every nook and cranny of the city.
The dirts are not only eye sores, they have also started competing with motorists for rights of way, with piles of refuse covering major roads, making both human and vehicular traffic difficult.
On a daily basis, Lagosians are now forced to inhale the stench from the piles of debris in market places, junctions and streets. The people are forced to live with heaps of dirts at the imminent danger of outbreak of diseases if nothing drastic is done to address the growing public health concern.
A resident at Okota told Saturday Vanguard, "this is living in hell and to imagine that Okota is one of the best places to live in the mainland. From the junction where I turn everyday to go to work to the Cele Expressway, heaps of garbage line up the highways, middle ways and sometimes, you see cattle grazing at the heaps of rubbish on the roads.
"It is not just the heaps but also the air that goes with it. Every resident in my area is breathing in polluted air because of the barrage of debris littered all over the place. Some of the refuse contain human excreta and dead animals, so you can imagine what is going into our body system.
"Lagos has become a dirty State. That is what refuse heaps have turned it to be.  If not, why are we meant to live with such huge debris? Why are we meant to inhale the poison coming out of them. Why has Lagos suddenly become dirty? The story of bike riders is another. It is unbelievable that they will occupy parts of the road and nothing happens. Riding against traffic has become normal in Lagos. What an animal kingdom.
"Years ago, there used to be people sweeping major streets in every nook and cranny of Lagos but you don't see them anymore."
No more streets sweepers in Lagos
For years, there existed in Lagos, a team of orange jumpsuit-clad street sweepers busily removing the damp sand from Lagos' streets. An investor coming into Lagos would shrink at the heavy traffic occasioned by containers, filth and pot-holes.
Just recently, about  300 supervisors of street sweepers were sacked. Between the Lagos State Government and the management of Cleaner Lagos Initiative and the contractor mandated to mop up the filth exists the truth of what has really gone wrong.
These sweepers have groaned under poor salary,non-payment of salaries and although the survivors are  grateful to have gotten this job, they seem not satisfied as the challenges involved are more than the stipends they earn as salary.
A sweeper who spoke with Saturday Vanguard said she still kept the job because she had no choice.
"They have been throwing us up and down. When I started the job, I was optimistic that it would meet my demands. But, right now, I am completely confused.   When my friend introduced me to it, she told me that, as a street sweeper, I would be able to feed my family and cater for my needs, that, I could attend to some pressing needs without necessarily going into debt but the story is different now. Many of us are no longer doing the job. People come and go. Sometimes, they owe us for a long time and the contractors keep changing. The whole thing is confusing. They even sacked some of us despite the terrible experience and the dangers involved."
Enter the Tanker, Container Drivers
All sorts of articulated vehicles park on every side of the   Kirikiri-Olodi-Apapa overhead bridge and every available space on both sides of the dual carriageway. This indiscriminate parking has consequently reduced the carriage capacity of the road, causing traffic congestion, a situation that has been worsened by potholes and craters on the ever busy expressway. Apapa and Oshodi bound motorists and commuters are at the mercy of these drivers. The menacing presence of the petroleum tankers and trailers on the road is the reason   Apapa-bound motorists and commuters spend several hours to get to their destinations on daily basis.
At least it takes every tanker driver more than a week to get into the ports or the tank farms located all over Apapa. The result is the mess that has engulfed the highways.
The situation is no longer controllable. Tanker and container drivers now seem more powerful than Lagos State government and even the Federal Government.
Vice President Yemi Osinbajo came in a helicopter and saw the mess but could not conquer. Lagos Governor, Ambode comes from time to time to see but could not conquer either and the Ministers of Transportation, Works and Housing, Rotimi Amaechi and Babatunde Fashola have been around severally to see but could not conquer.
The tank farmers and the oil firms that own them are bigger than Nigeria, the government and its people.
The tanker and container drivers stay for days on the high way and therefore cook, eat, excrete, bath and womanise inside their trucks. The commercial sex workers who come to service them do so inside their containers and tankers.
The highways are littered with rubbish and everyday, filth which create health hazards litter the corners. Indeed, Oshodi -Apapa and the entire dirt-ridden Lagos is an epidemic waiting to happen.
Outside Apapa-Oshodi Expressway, containers and tankers have veered into all parts of Lagos. Inside Lagos streets are blocked by containers and tankers.
Okota and other places are trending.
Some of the tanker drivers told Saturday Vanguard that policemen deployed to the area to control traffic, have abandoned their duty.
"As soon as the tanker drivers part with the money, they are permitted by the policemen to head to the tank farms on Tin can Island and Kirikiri and end up parking indiscriminately on the highway". According to Abdullahi who came from Maiduguri to lift petroleum products in Lagos, "I spent almost a week without getting close to the tank farm. For me as a person, I'm confused about the whole issue. Most of our colleagues who have not been booked to lift petroleum products are the cause of this traffic menace as they are allowed to behave anyhow by policemen."
Lagos at the mercy of Okada riders
Almost on a daily basis, bus and truck loads of youths are being transported into Lagos. These young ones have no relations in Lagos and are basically illiterates. They have no jobs and hope to get menial jobs in Lagos. Many of these end up as mai-guards, cart pushers, load carriers and majority end up as okada riders who learn to drive okada on the high ways. They learn on the job and the result is the increase in accident rate.
These okada riders are everywhere in Lagos. You will find them on Apapa, Mile-Two, Oshodi-Apapa Expressway, inside streets and roads in Lagos. There are no rules guiding them. They ply their okada against the traffic and are often the cause of major okada accidents in Lagos which have claimed the lives of many.
Very often, the Lagos State Task Force swing in on these okada riders, confiscate their okada but they soon return with new ones. But they can't do these in cities like Abuja, Enugu, Asaba, Warri, where the state government banned them. Crime and accident rates dropped in the Nigerian cities where they banned okada. Lagos does not only allow them operate, it allows them to be wild and  animalistic.
A state that used to pride itself for its beautiful pathways and cleanliness is now plagued with dirt, disease and death.
These okada riders have worsened the already chaotic traffic situation on Oshodi-Apapa dual carriageway due to deplorable condition of the road. In many places they occupy more than half of the road and policemen are helpless. They park on the roads, causing heavy traffic and obstruction. Second Rainbow, Mile 2, Apple Junction are some of the spots they occupy more than half of the roads and policemen and other traffic officers are even assaulted if they try to stop them.
What the people think
Some Lagos residents believe Lagos started losing its sanity with the  stoppage of the monthly environmental sanitation exercise in addition to the environmental policies put in place by the government.
Simon Akume, a Lagos-based banker said "if Lagos had continued with the monthly environmental sanitation, things wouldn't be this bad. Even the tanker drivers could be compelled to clean the environment where they park their tankers and trailers for days. What we are seeing is failure of leadership. This is seen in all aspects of life in Nigeria and not only in Lagos.
"We are now permanently inhaling smell from debris since the past seven to eight months now. Look at, this is a bank where people troop in everyday and look at a heap of rubbish nearby. Almost everyone on the street brings their debris here to keep.
"Our health is no longer guaranteed because of the debris. These days, we hear of all manner of sicknesses and diseases and we don't know what is causing them. You now see women selling food, roasting corn and yam by these heaps of rubbish and you see people queuing to buy.
"These dumpsites among people could cause rapid breeding of rodents, mosquitoes, flies, among others and they could be source of transmission of diseases such as Lassa fever, other fevers, salmonellosis, leptospirosis, among others.
"As we speak, Lassa fever is still killing Nigerians but they are not being reported as they were months ago. And I can tell you if you trace most of those infected, you will discover they live in and around places that have been converted to dumpsites in the city which unfortunately are within the environments where people live."