Fuel sells for N180 in Ibadan
By Ola Ajayi & Ediri Ejoh
THE Department of Petroleum Resources, DPR, in Lagos and Oyo State chapter, went tough on some independent marketers who were selling fuel above approved pump price of N145, sealing up 31 outlets in February 2018.
The stations were found to have committed different infractions ranging from products hoarding, selling above pump price and under dispensing of petrol to motorists.
In a statement issued in Lagos by Wole Akinyosoye, Zonal Operations Controller, DPR, Lagos, the agency said it has strengthened its monitoring activities at the depots to gauge availability and ensure timely truck-out of available products and has also intensified surveillance to ensure that available petrol is not sold above the N145.00 cap price at the pumps.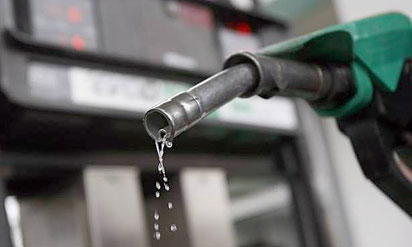 However, the statement added: "We noticed that some unscrupulous operators, aware that our officials cannot possibly be at all the 9,039 registered retail outlets in Lagos Zone at the same time, often adjust their pumps to deliver at the cap price whenever they sense DPR presence in their area and hike the price subsequently. "We therefore advise that motorists should insist on obtaining receipts for the purchase from such retail outlets."
In a related development, the agency in Oyo state is increasing efforts to bring erring fuel marketers to book through imposition of fines and suspensions in line with their regulations.
Vanguard investigation gathered that some of the filling stations were caught dispensing fuel at the rate of N180 at Olomi, Olunde, Odo, Ona, Elewe, Elebu and Orita Challenge areas of Ibadan metropolis.
Consequently, DPR sealed no fewer than 26 filling stations in the city last Monday.
Briefing newsmen after the exercise, Head of Operations, DPR, Mr. Sadiq Ibrahim, said, DPR would not relent until the owners of filling stations comply with the regulated pump price.
He stated: "We are here to ensure that filling stations dispense petrol at N145. We have so far closed 26 filling stations for various offences. Some were selling above the pegged price, while some were caught either for absconding or hoarding the product.
"Every filling station owner must sell at N145. Government has not increased fuel price and we can't allow them to sell above approved pump fuel price. We have various penalties for defaulters. We have sanctions for notorious filling station owners who still sell at unapproved prices despite sealing their stations."
Reacting to the sealing of his station, Mr AbdulAzeez Agbede, the Station Manager of Nurdok Energy who was allegedly selling at N180, denied doing so.
"I don't know why they sealed my station. I was not selling at N180. I sold it for N145. Those people you spoke with were lying," he said.
The post DPR sanctions 31 filling stations selling above N145/L in Lagos appeared first on Vanguard News.