By Jacob Ajom
COACH Gernot Rohr's provisional squad for the 2018 FIFA World Cup, released during the week was predictable. A lot of Nigerian football enthusiasts were not surprised by what Rohr dished out. Yet there were a few exceptions. The inclusion of  the uncapped Crotone striker Simeon Nwankwo and Lokomotiv Plovdiv defender, Stephen Eze and the free-scoring homeboy, Junior Lokosa of Kano Pillars took many by surprise.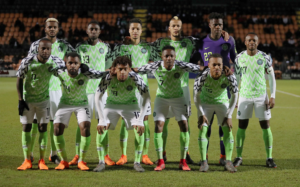 Apart from those few exceptions, Rohr lived up to his word of leaning majorly on those who played active part in Nigeria's qualification for the World Cup. Looking at the provisional squad, one could guess the bulk of the Franco-German tactician's first teamers.
Appraising the provisional squad, former Chairman of the defunct Nigeria Football Association, now NFF, Anthony Kojo Williams said, "that is what we have for now. They are the best players we have now, playing in Turkey, Belgium and China."
Super Eagles 1998 and 2002 World Cup hero, Taribo West agrees with Kojo. He said, "There is nothing special about the list as Eagles do not have big names; no outstanding players in big leagues one could say the team can depend on, but I am just happy that there are some players that can replace any one that gets injured. Their strength is in their youth and collective play. Football is team work."
On their expectations, Kojo said, "Like I always say, this is a team in progress. Whatever we are doing now, in terms of players and the coaching crew, there should be continuity and we should look ahead, probably to the next four years. It is not about just now, but the future."
Taribo was optimistic the Eagles can spring a few surprises in the tournament.
"I am not expecting any miracle but I expect surprises because they are the underdogs in their group. They are also one of the youngest teams at the World Cup– that is an advantage on their side. They are young, with young legs and will outrun anybody. That will make them a great revelation for Nigeria and the entire African continent."
On that note, Kojo agrees. "They are a young team with lots of energy. I am not writing them off because they can make a good impact in the group. The problem will come when they cross the group stage to the second round or quarterfinal stages. That is where they will meet well established teams that have been building for four or more years."
Despite their belief in the ability of the players to cause upsets in Russia, the duo were in unison when asked if the Eagles can win the World Cup. Kojo said, "if they go past the first round that will be fantastic and if they get to the quarter final they would have done absolutely well. Anybody expecting them to go beyond that is a big joker. o said, "it is not practicable for them to win the World Cup.
Taribo welcomed the new comers, particularly the attacker from Crotone of Italy.
I welcome his inclusion because up front, we need players that can score goals. We have not had the luxury of producing attackers who score goals like the late Rashidi Yekini and Nwankwo Kanu.  Obafemi Martins came close, but he was off and on. He wasn't consistent until he left the national team. So, any Nigerian who can bring back that scoring magic, let him come and prove himself. I pray the young man who has been scoring goals in Italy should maintain that form with the national team because it is one thing to score for club and another thing when playing for the national team. I have seen some players score so well for their clubs but when they get to the national team they can't find their feet."
The post Eagles can cause upsets in Russia –Kojo, Taribo appeared first on Vanguard News.