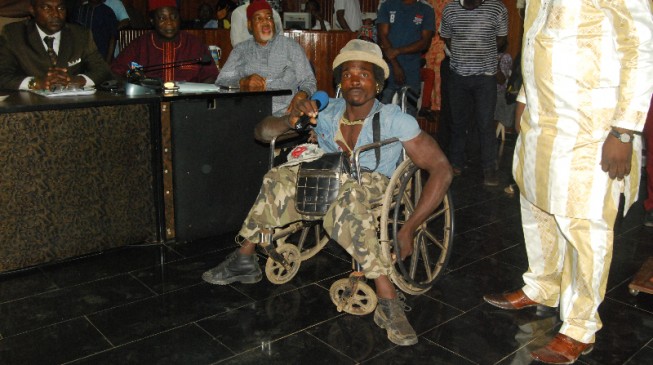 He made the demand while receiving the victim, who is an indigene of the state, at the chambers of Government​ House, Abakaliki, on Tuesday. Umahi said the 21-day imprisonment given to the soldiers was not enough. He explained that by sacking them, other law enforcement agents would be disciplined in their professional conduct and abstain from abusing the citizens' rights. He thanked Willie Obiano, his Anambra counterpart, for his "quick intervention" and the help extended to the victim. "I want to thank the governor of Anambra state for his quick intervention on this matter, I was very happy when he reacted immediately and rehabilitated this young man, also I want to commend the chief of army staff for the disciplinary action so far taken on those two soldiers, but we believe that 21 days imprisonment is not enough they did not behave like human beings and to be demoted is not enough," he said. "I suggest to the chief of army staff that those soldiers should be sacked from the army and be prosecuted immediately.
READ ALSO: Z O M B I E !!!
"And so we are going to take picture him and send to the chief of army staff to demand for the sacking and prosecution of those soldiers who carried such unprofessional act. "I believe that the army has to be disciplined in their conduct. I am also part of the constituency of the army and we would ensure that discipline is maintained in our society. "If punishment is not meted on those two soldiers, they would still carry out the same act. I thank the people of Anambra and Ebonyi who followed up on this matter." Umahi gave N500,000 to Oraku for his treatment and upkeep, and directed one of his aides to liaise with the victim and recommend ways that the government can properly rehabilitate him. The pleas of Oraku fell on deaf ears on the day the soldiers brutalised him.
source; The Cable
Related articles