By Adaeze Okechukwu
The National Bureau of Statistics, NBS, has disclosed that the economy grew by 0.83 percent in 2017, indicating an increase of 2.42 percentage point from 1.56 percent contraction recorded in 2016.
NBS disclosed this yesterday, in its Gross Domestic Product, GDP, report for fourth quarter, 2017 (Q4'17) and the Full Year.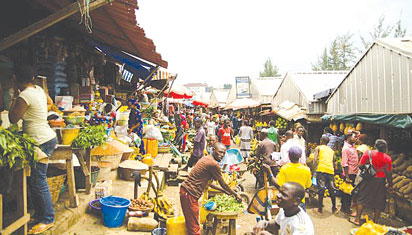 The statistics office revealed that in real terms, the nation's GDP in Q4'17 grew by 1.92 percent year-on-year (YoY), representing the third consecutive quarter of positive growth since the emergence of the economy from recession in Q2'17.
The NBS stated: "The nation's Gross Domestic Product (GDP) grew in Q4'17 by 1.92 percent (year-on-year) in real terms, maintaining its positive growth since the emergence of the economy from recession in Q2'17. This growth is compared to a contraction of -1.73 percent recorded in Q4'16 and a growth of 1.40 percent recorded in Q3'17.
"The year 2017 recorded a real annual growth rate of 0.83 percent higher by 2.42 percentage point than -1.58 percent recorded in 2016.
On a quarter-on-quarter (QoQ)basis, the aggregate GDP in Q4'17 increased to N31trillion from N29 trillion in Q4'16, resulting in a Nominal GDP growth of 6.99 percent.
"This growth is lower relative to growth recorded in Q4 2016 at 12.49 percent. Nominally, 2017 recorded an annual growth rate of 12.05 percent higher by 4.25 percentage point compared to 2016 annual growth of 7.80 percent,"  NBS stated.
Risk of slide back
The report, however, showed that the nation's economy somewhat faces the risk of sliding back into recession as the manufacturing sector recorded a contraction by 0.21 percent last year.
Meanwhile, the growth in the agricultural sector last year slowed down to 3.45 percent from 4.11 percent recorded in 2016.
Commenting, analysts at Lagos based Cowry Assets Management Limited stated: "The growth in real output was more    broad-based across the    oil, agricultural, manufacturing and services sectors –quite a departure from the quality of    growth in preceding quarter when the    oil and agricultural sectors virtually    dominated."
The post Economy sustains recovery, grows by 0.8% in 2017 appeared first on Vanguard News.