Following the successes recorded in executing major infrastructure and social development projects in the state, especially the Edo-Azura Power Project, the World Bank has said that Edo State has become a model for development financing at the sub-national level in developing countries.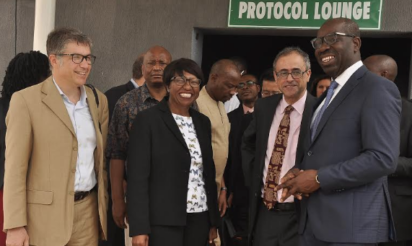 World Bank Executive Director, Angola, Nigeria and South Africa sub-group, Ms. Bongi Kunene, gave the verdict during a lunch organised for 10 visiting World Bank Executive Directors, at the Government House, Benin City, the Edo State capital.
She said that the Bretton Woods institution is impressed with the level of work done through its various projects as well as the partnership that birthed the Edo-Azura Power Project.
Noting that the state is among the two sub-national governments that accessed its budget support instruments, she said the projects executed in the state are not just impressive but meet the expectations of the visiting delegation.
She added that the World Bank is willing to "partner with the state on future projects, as long as the projects are in line with the Bank's focus."
On the Edo-Azura Power Project, she said, "The project is transformational. It gives us a scope of what we can do together. We are delighted to see solutions. We would want to commit ourselves to projects that make sense and are in line with our focus."
She said more of such projects can be executed if governments are willing to cooperate with the bank in granting necessary approvals, allowing for thorough impact assessment and are open to multilateral financing arrangements.
Edo State Governor, Mr. Godwin Obaseki, on his part said that with the 450MW Edo-Azura Power Project now on stream, the state wants more investors for the Benin Industrial Park and technology innovation hubs.
He said the enabling environment to host diverse investors is now available, especially with the provision of power by companies like Edo-Azura Power.
According to the governor, "Power is the key to industrialisation and development. We need to extend the benefits of this investment. Now that we have power, what are we going to do with it? The next set of projects are those that have to rely on this key infrastructure we have just created. So, we would be looking at the Benin Industrial Park, building infrastructure to encourage and support manufacturers to come in. We are looking at innovation hubs; we want to use the factor and advantage of 24/7 electricity to encourage technology groups and companies to be located in Edo State."
The post Edo State now model for devt funding in developing countries – World Bank appeared first on Vanguard News.