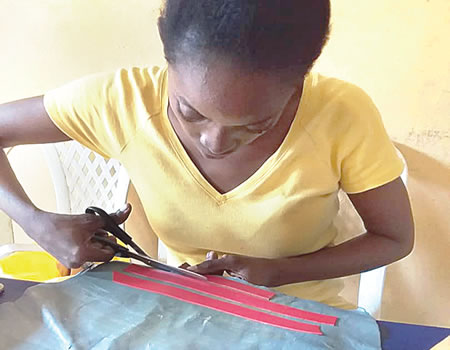 Most university graduates and undergraduates are no longer aspiring for that juicy employment; neither are National Youth Service Corps (NYSC) and ex-corps members still wasting their time begging employers for jobs. They are tired of industrial strikes and government's empty promises of job creation. Instead, they mind their own business and create their own jobs.
This is so, especially as the Nigerian economy is still feeling the effect of 2016 recession. Government and the private sector seem constrained towards creating new jobs and the fate of the youth kept hanging in a balance.
More discouraging is the perennial industrial strike of the Academic Staff Union of Universities (ASSU). The strikes have on many occasions forced students to remain at home for a full semester, thereby delaying years of graduation of many students and causing them to join labour market at ages above requirements of certain employers. The effects of all these are unemployment and poverty and as necessity is the mother of invention, forward-looking undergraduates and young graduates are bent on making hay while the sun shines.
Red card to poverty and unemployment
Latest unemployment figures released by the National Bureau of Statistics (NBS) showed that unemployment rate rose to 23.1 per cent at the end of third quarter (Q3) of 2018, up from previous 18.8 per cent in the corresponding quarter in 2017.  The number of those actively seeking jobs according to NBS rose from 85.1 million to 90.5 million.
This statistics of joblessness was reinforced by a recent revelation from the Manufacturers Association of Nigeria (MAN) that over 220 Micro, Small and Medium Enterprises (MSMEs) and 196 manufacturing companies closed down in three years.
Expectedly, the number of persons with no work at all and those that worked for under 20 hours a week rose from 17.6 million in the fourth quarter of 2017 to 20.9 million in the third quarter of 2018, an addition of 3.3 million people.
It is therefore no surprise that Nigeria is currently ranked the country with the highest number of extremely poor people. It was estimated in the last quarter of 2018 that 87 million out of the estimated 180 million population of Nigeria, which represents 45 per cent of Nigerians, are currently living in extreme poverty.
By this estimate, Nigeria was reported to have overtaken India to become the poverty capital of the world and the British Prime Minister, Theresa May added her voice that, 87 million Nigerians are living below the poverty line.
Yet, all hope is not lost. In what seems like a new wave of red card to poverty and unemployment, many young graduates have taken up entrepreneurship in the agriculture and Small & Medium scale Enterprises (SMEs) sectors.
The discouraging and hopeless numbers coming from various authorities have indeed opened the eyes of these young graduates to the realisation that small scale enterprises play critical role in job creation, poverty alleviation and economic development.
In the light of this,  three members of the NYSC in Sokoto State started  making the best of their service year in the fourth quarter of 2018 by engaging in sheep/goat rearing; broiler, groundnuts and onion production.
They were not deterred by lack of access to finance or capital investment. Their focus has been on the potentials of SMEs in turning around the fortunes of its converts, especially in creation of job opportunities to different strata of the society and flow of money across various levels.
The young men, Matthew Afolabi, Yusuf Owolabi and Kunle Shittu told a local newspaper on December 23, 2018, how they have been channeling their resources, including their NYSC monthly allowance nicknamed  'allowee'  to help them earn extra income and build skills sets that could make them entrepreneurs and employers of labour in the nearest future.
They are telling the world that:  "Our future can only be planted, watered, taken care of and harvested by ourselves. We decide what we want to do with our lives, our world and our environment, because destiny isn't written in the stars, the wind or the earth."
Afolabi, a graduate from the Federal Polytechnic, Offa in Kwara State, who is currently serving at Tambuwal Local Government Area of Sokoto State, said he got this idea from a friend who has been in Sokoto for a while.
He was advised to purchase rams and rear them in preparation for the past Sallah festival, and he did. He bought six rams, which he started rearing while still serving. The cost of the rams according to him, ranged from N6,000 to N10,000 each, depending on how healthy and big they appeared.
"You have to make sure that the rams have enough food, change their water and check if they are healthy," he explained, pointing out that during the last dry season, when there was no vegetation in the area, he was forced to buy formulated feeds for the animals.
The first time Afolabi bought feeds, a bag cost N900 and he bought five bags, which summed up to N4,500. Within a month, the rams consumed everything. So, Afolabi had to buy more bags, but this time, the price increased to N1,300 per bag and currently N1,500 per bag. "This is a challenge," he said.
Afolabi sold each ram between N18,000 and N30,000 depending on the size. Although, the profit margin according to him was low because of the high cost of feeds, he was glad that the money invested was not lost.
While hopeful of higher returns, he admitted he had never had any training on animal rearing, as this was his first experience, expressing satisfaction with the rudiments of livestock production he had learnt so far.
Another corps member in Sokoto, Shittu, cultivated and harvested groundnuts recently on a piece of land he leased, and harvested his onions by end January 2019.
Shedding light on how he went about it, he said, "Planting onions requires more attention and regular weeding and this has been very stressful, unlike groundnuts. Planting groundnuts didn't give me much stress. After planting, I only had to weed three times before harvesting. I planted three kilos of groundnuts during the rainy season and I harvested a bag of groundnut and five bags of the groundnut leaves. From planting to harvesting, the growing cycle of a groundnut takes four to five months, depending on the type and variety.
Shittu revealed that he got to know about agriculture during a Skills Acquisition and Entrepreneurship Development (SAED) programme at the NYSC orientation camp, and went on to his place of primary assignment where he requested for a small piece of land to plant groundnuts.
"After clearing the land, I made ridges and went to the market to buy groundnuts which was sold at N450 per two kilos. The outcome of that was very positive because I gained a lot of money. If I had known, I would have planted 50 kilos of groundnuts instead of three kilos," he said.
Owolabi, who as at December 2018, said he was planning how to set up poultry farm after his service year, holds a degree in Computer Science from the Federal University of Technology, Minna. The corps member currently rears over 150 broilers for chicken production, and is planning to expand. "I sell to people who prepare roasted chickens on the roadsides and other people that still want to eat chickens in their homes," he said.
The young graduate had not only earned a lot of money from the poultry production, but had learnt a lot on the business.
Owolabi said the need for gainful employment creation for himself and others, and the desire to do a business that ensures quick return on investments prompted him into the agribusiness. He also added that he got his inspiration from some of the successful men in Nigeria who engage in agriculture.
Matthew Afolabi, Yusuf Owolabi and Kunle Shittu are not alone in this decision to give unemployment and poverty red card.
In the same way, rather than searching for primary or secondary school teaching jobs, Mrs Ifulanya Ofor, a graduate of Education Administration from Abia State University preferred to learn craft and teach others in the informal sector.
She did NYSC orientation in Zamfara, after which she redeployed to Lagos State. "Something in me kept telling me entrepreneurship was the best way for me,"she told Nigerian Tribune.
Mrs Ofor said her dream became clearer when she finished her NYSC. She had a burning desire to excel as an employer of labour.
"I paid to learn bead making because I have to start somewhere. I took to  bead making while still serving in  Lagos State. As my stock was rising, my customers started demanding wire works from me. Since I did not know it, I enrolled for training in wire works and in a matter of months, I had finished my training. I was then good in bead making and wire works," she narrated.
Wirework is a creative process by which wire and beads are together used in creative works to produce chain, necklace and other beauty materials.
In the course of Ofor's work, she had been able to achieve some of her aspirations and dreams teaching others how to fish, rather than giving them fish. She has trained about 20 artisans who have in turn done wonderfully well for themselves and family. They have also contributed to the economy and are still teaching people skill to earn a living and become employers of labour.
Ofor now has a business name 'Cute Designers.' She has carried on for the past eight years, empowering women and reducing poverty in her own little way..
This is different from the experiences of some of her course mates. Many of them that thought they were lucky to secure low-paying jobs immediately after NYSC, are still writing applications for employment, just to move from a N30,000 salary-paying job to a more remunerating one.
However, Mrs Offor is not carried away by her achievement so far.
She said funding is still a challenge, because she longed to do much in the areas of market expansion and getting the right exposures online, creating YouTube channels, among others. In the meantime, she is doing well with what is available, while chasing the bigger picture.
In her own words, "I am not there yet, but I am happy with the progress we have made so far. No regret embarking on the journey of entrepreneurship. It has given me relative freedom, as I also have the time to manage my home and kids, empower people and make people beautiful beyond their expectations."
In the same entrepreneurial spirit, Akerele Ronke Adu, a graduate of Agricultural Economics and Extension, Ladoke Akintola University of Technology did not waste her time in search of white collar job. Neither did she waste her time during the incessant industrial strike visiting one relation and another, complaining about the forced holiday by ASUU.
Instead, she took to fashion designing while in first year at the university.  So, while in the University, and after graduation she already knew where she was headed.
Today, Ronke who had her secondary education in Gwandu, Kebbi State is the founder of McAdur Imaginations, a Lagos based one-stop fashion café that combines a fashion academy, with bespoke tailoring, ready-to-wear, facial clinic and make-up studio in Festac, Lagos.
In an interview with a national daily in January this year, Ronke said she settled in the industry because youths have not really tapped the full economic benefit of the fashion industry. Nigerians according to her, are among the world's highest consumers of foreign fashion product.
Her business strategies are competitive price with standard products, timely delivery, loyal customer care services and outsourcing which allows other companies to execute some of McArdur's services. For instance, her delivery is handled by a logistics company and all these has given her an edge which does not just lead to return clients but also referrals.
In terms of job creation, she added that she had lost count of the number of students who passed through her FESTAC based academy.
"McAdur Imaginations has trained numerous persons. We draft our students/trainees to work part time which also enhance their capabilities with requisite exposures," she explained.
Ronke who just returned from South Africa for fashion collaboration said over the years, she has been able to form synergy across borders to remain up-to-date and tap creativity from other cultures.
She, however, noted that the rush by Nigerians for foreign designers and high cost of running business in Nigeria has been a challenge. On how she raised her start-up fund, Ronke said she got no-interest-loans from family, friends, reinvested profit and got Partnership collaborations.
Miss Uche Favour Anosike, a graduate of Chemistry from the University of Abuja finished her NYSC late 2018. She is from Ohuhu in Umuahia North, Abia State. She is a footwear freak.
In a chat with Nigerian Tribune, Uche said while she was serving, she learnt a skill so she would not be idle while job hunting. Her ambition is to be a household name and to be an employer of labor in the next five years. Uche's target customers are anyone who wants quality footwear at an affordable price.
On how she sells her products, Uche revealed that she markets on social media especially Instagram, Facebook and Whatsapp. Her major challenge is finances. "For a start up getting loans from a financial institution is really difficult," she said.
The Chemistry graduate says her only regret is that the government is not helping at all. "All we have are the same old politicians being recycled. So to me the government has failed."
The young shoemaker's advice for youths and graduates is that the era of certificate in Nigeria is fading away and being replaced with "sabificate" (meaning what you know).  "It's not all about what you studied, so it's advisable to learn a skill," she advised.
Miss Esse Omoniyi like is a graduate of Agricultural Extension and Rural Development. She completed her one year compulsory national youth service in 2016 and did not waste her time searching for none-existent job. Today, she dries and package catfish for sale using Nigerian fabricated fish-drying machine.
Meanwhile, Mr Bello Ballama, the NYSC FCT coordinator, had said that the National Youth Service Corps would include farming and crop production as part of the one-year primary assignment for corps members, starting from 2019 service year.
Ballama believes that the struggle after service year must end through trainings in farming, because it "will not only support skills acquisition of NYSC but also government's plans of boosting agricultural production to improve self-reliance and achieve national growth and development.
The post Emergence of graduate artisans appeared first on Tribune Online.