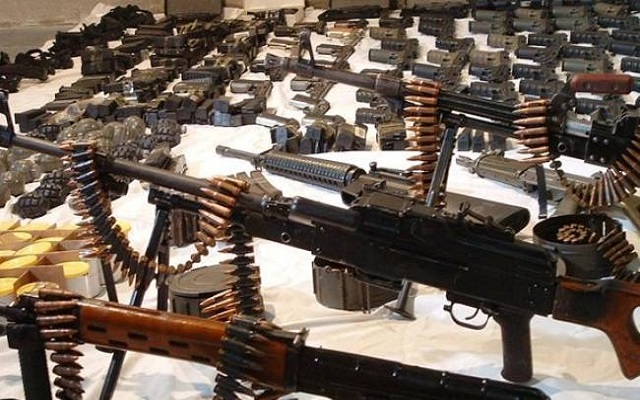 The European Union (EU) has provided €2.13m for the mop-up of illicit arms in Nigeria.
The flow of small arms across the country has been a trigger of conflicts in several parts.
It is estimated that three million illicit arms are in circulation in the country.
The mop-up funds will be dispensed through an initiative tagged,  'ECOWAS-EU Small Arms Project', which will be launched in Abuja on Thursday.
Speaking with journalists in Abuja on Wednesday, Fredrick Ampiah, ECOWAS/EU regional team lead, said the aim of the project is to curb the illicit flow of firearms in Nigeria.
He said the project, which had already been kicked off in Sierra Leone, Liberia, Guinea and Mali, is the initiative of ECOWAS commission.
"It is designed to sensitise border communities on the dangers of illicit trafficking of weapons; to strengthen operational capacities of security force and to encourage voluntary weapons surrender in return for community based micro-development projects," he said.
"The project funded by the EU is worth 2.13m euro (or N638m). In its pilot phase in Nigeria, the project is to be implemented in Akwa Ibom, Cross River, Kaduna, Katsina, Kebbi, Sokoto and Zamfara states in the south-south and north-west of Nigeria that are the direct beneficiaries (of the project)."
Follow us on twitter @thecableng
Copyright 2017 TheCable. Permission to use quotations from this article is granted subject to appropriate credit being given to www.thecable.ng as the source.
Source: The Cable