Stories by Moses Nosike
Kemi Remi Dairo, Managing Director/CEO, Events Expert is a graduate of Economics, Social Sciences from Obafemi Awolowo University. Her passion and love for quality services gave birth to Events Expert/KRD Chef Services. The young Nigerian through her entrepreneur hunger and business outfit has created jobs for a lot of youths.
In this interview with Nosike Moses, she reveals that skills, knowledge of catering from childhood add to training, had given her competitive edge in the event and catering industry even as she calls for government partnership to promote event industry the more. Excerpts:
Tell us your vision of Events Experts/KRD Chef Services?
These two companies are actually separate entity running differently but owned by me. Both came out of passion and love for quality services. Events Expert started full operation in January 2008 after 6 years of training in the industry. But my passion for event planning started 2002 way back in school when a group of friends came together to start events kolony, it was fun as my wedding in 2005 was one of the events planned and coordinated by events kolony.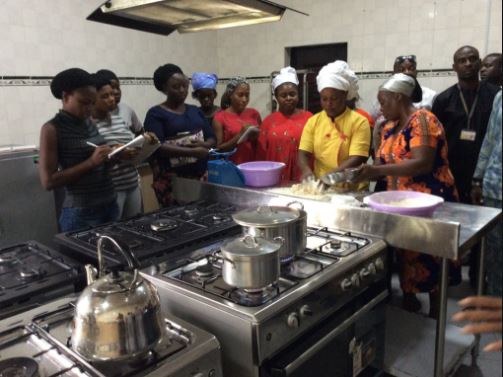 However, I was receiving training at Zapphaire Events after school and that helped me to gain more experience in the industry between 2006 and 2007 precisely. All these experiences helped me to start my own company, Events Expert. My major  vision for the company is to carry out excellent service delivery by taking away stress off clients and replacing it with pleasure, and this over the years has been a remarkable success for us at Events expert.
Four years ago after working with notable catering companies in the industry, though the skills and knowledge of catering had been part of me from childhood, I did not think of turning it into business initiative, until my training experience in the industry that the passion for starting a catering outfit came up and we took the bold step and KRD Chef Services was given birth to. Our major vision is to develop a plan for a world class catering outfit for both indoor and outdoor, with a top notch service delivery and executive presentation. This we have preached and practised in all our deliveries in the past 4 years of catering business and we have indeed achieved a lot.
What can you say about catering and event planning in Nigeria?
Event planning industry, which catering is actually a department has been a positive development, in job creation in Nigeria. The birth of the event industry has given the industry a lift with creativity at all levels thereby promoting competitions.  For instance, catering has gone beyond domestic cooks (oloopo), serving in coolers and as guests at events if you are served food then you were lucky.
However, to a well planned and high level of table presentation to many and varieties of sumptuous menu to choose from, this has made events what to always look out for and look up to when invited.
To what extent does your industry create job?
Like I said earlier, event industry has really created jobs in Nigeria at different levels; we have departments where you can explore and excel without formal education. And there are also jobs for "O" Level, undergraduates and graduates respectively. For under-graduates, they have been able to sponsor their education with the little amount they are paid for ushering, waiters and coordinating at events, graduates becomes entrepreneurs even before leaving school proud to be called CEO and they are all doing exploit everywhere.
What are those challenges your company is facing, as well as, the entire industry of event planning?
One of the challenges we are facing is lack of government support. We need government policies that would encourage more business owners in the industry. Operators in the industry suffer under multiple ,which has left them with little or no profit at the end of the day. We need tax rebate to encourage small scale businesses in the country. This will encourage standards and reposition us to compete globally.
Is your industry regulated to avoid quacks?
In the pursuit of standardization and to eliminate quacks in the event industry, Association of Professional party Organisers and Events Managers of Nigeria, (APPOEMN)  was formed to streamline activities of the industry practitioners and deal with dubious behavours of vendors when noticed. We want government to support the Association to claim their rights when the need arises. Government can partner with the Association to ensure that the Association meets the test of time.
What level do you want to take your company in the nearest future?
According to both companies' vision, we are looking forward to world class catering outfit and Event management company and we are almost there. We want to build a catering and  an event industry in Nigeria that can compete globally and stand as a reference point any time any day. That is part of our future vision.
The post Event, catering industries need govt support, to provide more jobs — Dairo appeared first on Vanguard News.