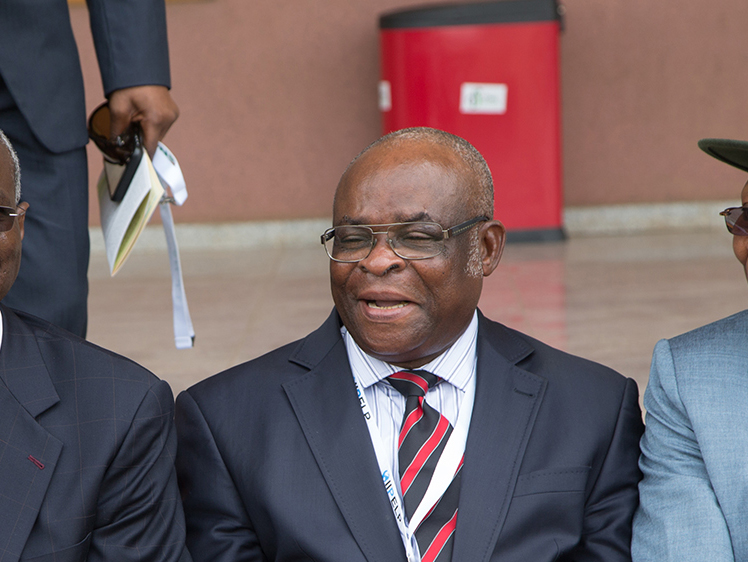 President Muhammadu Buhari has asked Vice-President Yemi Osinbajo to forward the name of Walter Onnoghen, acting chief justice of Nigeria (CJN), to the senate for confirmation.
In a letter seen by TheCable, Buhari said the name should be transmitted to the upper legislative chamber before February 10 when Onnoghen's tenure in acting capacity would elapse.
"Your Excellency may recall that I sent a letter dated 10th November, 2016, to Honourable Jutice Walter Samuel Nkanu Onnoghen CFR, appointing him as acting chief justice of the Federal Republic of Nigeria," the letter read.
"His acting appointment is due to lapse on the 10th of February, 2017. I am therefore, authorising you to write to the Distinguished Senate, in conformity with section 231 (1) of the 1999 Constitution of the Federal Republic of Nigeria as amended, requesting for the confirmation of the same Honourable Jutice Walter Samuel Nkanu Onnoghen CFR, as the substantive Chief Justice of the Federation with effect from the date of the senate confirmation.
"Please accept, Mr Acting President, the assurances of my kind regards."
TheCable understands that the acting president has since sent the request for confirmation to the senate.
There have been controversies over the delay in the confirmation of Onnoghen, who is the first individual from the south to attain that height in 30 years.
Ayo Irikefe was the chief justice of Nigeria between 1985 and 1987, and he was succeeded by Mohammed Bello.
The delay in confirming Onnoghen had sparked controversy, with many accusing the president of ethnic bias.
Abubakar Dangiwa Umar, former military governor of Kaduna state, had urged the senate not to confirm any nominee apart from Walter Onnoghen.
Onnoghen had appreciated the interest of Nigerians in the issue, but called for restraint.
"Nigerians should allow President, Muhammadu Buhari, GCFR, a free hand to perform his constitutional duties concerning the appointment of a substantive chief justice of Nigeria," he had said in a statement issued on his behalf by Awassam Bassey, his media aide.
On Monday, TheCable conducted a poll on whether Osinbjao should forward Onnoghen's name to the senate.
Majority of the respondents voted in support of the idea.
Buhari is currently on medical vacation in the UK.
Follow us on twitter @thecableng
Copyright 2017 TheCable. Permission to use quotations from this article is granted subject to appropriate credit being given to www.thecable.ng as the source.
Source: The Cable