The federation accounts allocation committee (FAAC) paid states an excess of N10 billion while sharing bailout funds in 2016, TheCable can report.
This is contained in the recently released annual report of the auditor general of the federation obtained by TheCable.
In 2015, President Muhammadu Buhari approved funds to help governors pay salaries in their various states.
"Our review of records at the FAAC secretariat revealed that under the salary bailout arrangement, the sum of N406,368,202,413.97 was the total principal amount released to state governments that benefited from salary bailout in 2015 and 2016 as recorded in the OAGF summary submitted for audit," the auditor-general said.
"Whereas audit scrutiny of the documents presented revealed that the actual total principal amount released to the benefiting states were the sum of N416,368,202,413.97, resulting in an overpaid difference of N10,000,000,000.
"The FAAC secretariat is requested to explain this overpayment and take steps to correct its accounting records where appropriate."
UNDERSTATED REPAYMENTS
States are expected to return the bailout funds because it is a loan facility that will be repaid over a period of 20 years.
However, the auditor-general discovered that the amount to be deducted from Oyo and Cross River states is less than the amount repayable.
"We observed that the computation of the total amount of loan payable by each state on the salary bailout facility was based on the summation of the principal amount and the interest," he wrote.
"Our examination of the records revealed that for Oyo and Cross River states, the total amount repayable by the two states was understated by N1,895,797,986.24 and N3,571,237,190.24 respectively, resulting to a total understated amount of N5,467,035,176.48."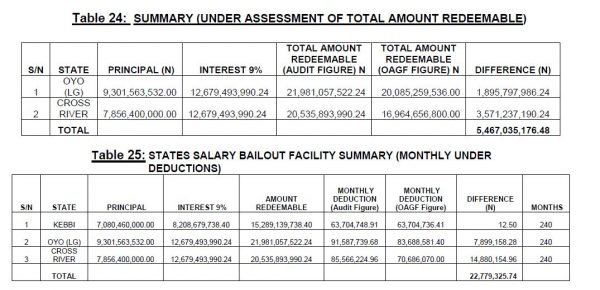 "The accountant-general of the federation has been requested to explain the reasons for the reduction in monthly deductions for the two states, and where necessary, recompute the monthly deductions to arrive at the appropriate monthly deductions that would clear the accounts in 240 months."
Anthony Ayine, the auditor-general, is required by Section 85 (5) of the constitution to submit the report on the audit of the accountant-general's financial statements to the national assembly within 90 days of receipt of the statements from the accountant-general.
In the executive summary, Ayine wrote: "The Financial Statements of the Federal Government for the year ended 31st December, 2016 were first submitted to me by the Accountant-General of the Federation on 30th June, 2017. Following my preliminary observations, the Statements were significantly amended and resubmitted on 29th September,  2017.  Further  amendments to the Financial Statements led to another re-submission on 29th December, 2017 and 16th January, 2018 before the final version was eventually submitted on 20th March, 2018."
Copyright 2018 TheCable. Permission to use quotations from this article is granted subject to appropriate credit being given to www.thecable.ng as the source.