With the scrapping of the Ministry of Sports in Anambra, sports administrators and enthusiasts have expressed dismay, saying that uncertainty now becloud the future of sports and athletes development.
The  sports, which operated as a council was given a ministerial status as Ministry of Youths and Sports in 2000.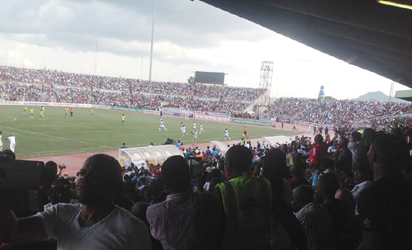 The nomenclature was changed to Ministry of Youth Entrepreneurship and Sports Development in 2014 when Gov. Willie Obiano assumed office.
The same Obiano has again re-christened it Ministry of Youth Empowerment and Creative Economy in March 2018.
Confirming the scrapping of the sports ministry, Bonaventure Enemali, the Commissioner for the new ministry, told Newsmen that he was not the sports commissioner in Anambra
Enemali said the state intended to create a Sports Commission to take care of sports in the state.
"We are going to create a Sports Commission to handle all those things that pertain to sports more robustly than seen under the ministry.
"The Sports Commission will be responsible solely for sports because under the ministry arrangement, sports is fused with many other things.
"We shall still be having competitions, capacity building for coaches and training of athletes and facilities, it a very good decision,'' Enemali said.
Reacting to the scrapping, Cypril Amuzie, a veteran sports administrator, decried the development and describe it as a great disservice to sports in Anambra.
Amuzie, a former director who also served as Acting Permanent Secretary in the Ministry of Youths and Sports, said there should have been wider consultation before such reforms could be implemented.
He said that the government did not seek anybody's advice, noting that during his tenure somebody brought such a proposal for the same sports commission.
"And we looked at it dispassionately and the issue of funding was raised,'' Amuzie said.
He said creating a Sports Commission without funding it appropriately would leave sports worse-off in the state.
According to him, it is just a way of running away from funding sports.
"Sports commission is supposed to be headed by a Director-General and other directors, that goes with lots of cost, they did not ask question, no consultation whatsoever.
"What we struggled to get, we wrote a number of memos to get and now they want to scrap it.
"I have done my best, I am retired; they know best what they have in mind.
"Look at the school sports we developed with the Ministry of Education, we were doing well and they came and rubbished the whole thing, no reward for the children who excelled.
"They should fund sports through the associations and not commissioners and Permanent Secretary keeping it and disbursing it the way they want, that is how they killed sports,'' he said.
Also, Odi Ikpeazu, a seasoned football administrator, said he was not impressed with the change of name and modus operandi of the sports sector.
Ikpeazu, the proprietor of Ikpeazu Redoubtables, described sports in Anambra as disorganised and called for change of mindset toward its development and athletes.
"I don't think a change of name makes any difference, ministry, council, commission or whatever; if the mindset and orientation is not changed, they are just wasting their time.
"It will just be a way of making money for few people who will be on the commission, the issue is the psychology of those in charge.
"I do not know what it will be like but from antecedents, I am not excited, no form of optimism for me.
"For now, the sports sector in Anambra is totally disorganised, everybody is trying to do things for himself without a superior authority.
"Here you see poor men using their feeding money to run football clubs just because of the love they have for it,'' he said.
On his part Arthur Ebunam, an ex-Rangers International, said he did not know what the changes implied and was waiting to see how it turned out.
Ebunam expressed concerns about the status and pay of the staff of Ministry of Sports who would likely form the bulk of staff of the Sports Commission.
"I am still trying to find out what is going on there. My concern is the fate of the workers there.
"I have yet to know what they are doing, I don't know how the proposed commission is going to work.
"I have not been consulted but more importantly, I don't think it is necessary to scrap the ministry.
"They made things difficult when they added youth entrepreneurship to it.
"For me, Ministry of Youths and Sports Development is better than sports commission,'' he said.
Ikem Asika, a veteran sports writer, said the Anambra Government had succeeded in putting sports in the state on the reverse gear.
Asika, who is also a Cricket administrator, said the government should have strengthened the existing structure with capable appointments and better funding than bulldozing it to create a new order.
"Scrapping sports ministry to experiment with a commission is like taking us 30 years back and this is unfortunate.
"We were looking forward to a more boisterous ministry manned by a sports loving commissioner, but to hear that there is no more sports ministry is to say the least disappointing.
"As journalists, we will live to see how this development will turnout,'' he said.
Meanwhile, the atmosphere was calm when Newsmenvisited the ministry as staff were seen in their offices.
A source, however, wondered what will be their lot in the new arrangement in terms of job security, salaries, rights, privileges and pensions.
"Under the sports council arrangement, we were not integral part of the civil service, promotion was a problem, salaries were determined arbitrarily and we were not pensionable.
"The ministry system brought out the best in us and the best in sports development generally in Anambra, we are waiting to see how the new policy works,'' the source said.
The post Fans decry scrapping of sports ministry in Anambra appeared first on Vanguard News.