By Chris Ochayi
Minister of Power, Works and Housing, Mr Babatunde Raji Fashola has commissioned a 60MVAR capacitor bank at the Apo 132/33KV transmission substation in Abuja aimed to improve electricity supply to about 7,000 households.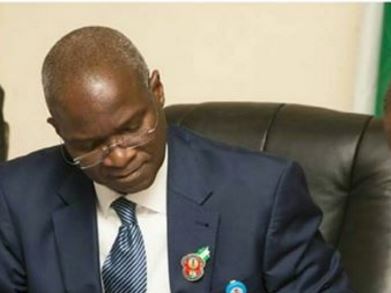 Fashola, while commissioning the project said the administration is concerned beyond increasing the quantum of power to the quality of electricity being supplied.
He said, the voltage improvement project at Apo with another 25MVAR to be commissioned in Keffi, Nasarawa state by June 2018, is worth $12.4 million. It was initiated by the Japanese International Cooperation Agency, JICA, in 2016 to assist the Transmission Company of Nigeria, TCN, improve power supply across Abuja, FCT, Nasarawa and Benue states.
According to him, "We are here because we promised incremental power and to make it better. Not only have we improved the quantity of power that is available, we have improved the quantity of power that is transported, and that is distributed.
"It is one thing to have power and it is another for the quality of the power to be good. And today, we have come to address the quality of power."
Fashola explained that, following the commitment at the recent 26th monthly power sector meeting in Umuahia, Abia State to improve customer service, more projects will be commissioned by TCN and the Niger Delta Power Holding Company (NDPHC) to improve supply.
"Some examples of  improving services will be the roll of projects that will help more people have access to power.
Our population has grown over the last 20 years without commensurate expansion in the services and that is partly why there is load shedding and low voltage," Fashola explained.
The Managing Director of TCN, Mr Usman Gur Mohammed said the installation of the two capacitor banks are executed through a grant from JICA which is also supporting the rehabilitation of the Lagos-Ogun transmission line that could boost transmission by 1,000 Megawatts.
JICA is supporting us with a loan that is boosting transmission capacity between Lagos and Ogun and will add over 1,000MW in terms of line and transmission capacity.
We are asking partner that are willing to help us not to give us only loans but to also give us grants like this," Mohammed said.
Chief Representative of JICA Nigeria Office, Katsutoshi Komori said, "This project will stabilise the power supply in the regions served by those substations and is expected to provide stable power supply to 7,000 households. By improving the power supply capacity and reliability, this project is also expected to stimulate economic activities and improve the lives of residents."
The post FG commissions Apo capacitor bank to power 7,000 households appeared first on Vanguard News.