By Nwafor Sunday
The Movement for the Actualisation of the Sovereign State of Biafra (MASSOB) Saturday, accused the Federal Government of not being much committed in prevailing on South Africa to end the xenophobic attacks against Nigerians living in its country because most of the victims are Igbos.
MASSOB who urged the South African government to, as a matter of urgency, stop the killings of the Igbo people living in its country, said such is a violation of the fundamental human right of the people.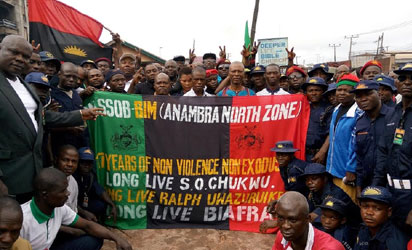 MASSOB's National Director of Information , Mr. Nazi Sunday Okereafor made this known to newsmen on Saturday. He said that the Federal Government was not compelling its South African counterpart to stop the xenophobic attacks on Nigerians, particularly Igbo people doing business in the area.
Okereafor claimed that one Emeka, who was a businessman in South Africa, was shot 25 times by a group of South African youths, adding that it was wrong for Africans to kill their brothers for no just cause.
He said, "Government has not shown enough commitment towards stopping these attacks; because Igbo people are more in population in South African." "Federal government can stop this attack if they want to".
Okereafor said that it is a total violation of fundamental human right of a people who, by the colour of their skin, decided to associate with citizens of  neighbouring countries, but are, sadly, killed, maimed and or dispossessed of their belongings due to hatred and jealousy by those they regard as brothers.
Also, many people have condemned the killings, saying that not even the friendly help rendered to South Africa by Nigeria during the apartheid period could quench the raging flame of xenophobic attacks meted on Nigerians and other nationals resident in South Africa.
They maintained that many Nigerians have been slaughtered while a lot others sustained severe injuries in the wake of the xenophobic attacks in South Africa.
The post FG not much committed in ending xenophobic attacks because Igbos most victimised – MASSOB appeared first on Vanguard News.