New York – The Federal Government has released about N43.92 billion (122 million dollars) to 300,000 rice farmers to increase Nigeria's rice production by additional two million tonnes in 2018.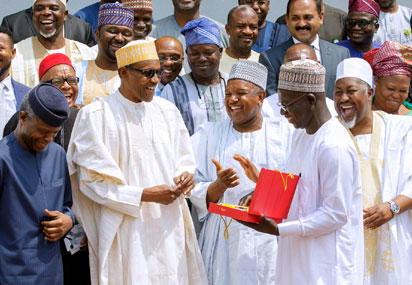 Minister of Women Affairs and Social Development Aisha Al-Hassan stated this in New York at Nigeria's side event during the ongoing 62nd Session of the Commission on the Status of Women (CSW).
The theme of the event was: "Achieving Economic Empowerment: Addressing women peace and security issues as a pathway for socioeconomic Independence for rural women in Nigeria".
Al-Hassan said: "The Agricultural Transformation Agenda is aimed at strengthening the agricultural value chain, achieving a hunger-free nation, accelerating food and nutritional security, generating employment and growing wealth for millions of farmers
"The current Anchor Borrowers Programme of the Federal Government has released over 122 million dollars to farmers through 13 participating institutions.
"This is to spur the production of additional two million tonnes of rice in 2018 by 300,000 Rice Farmers, majority of whom are women in rural areas".
She said the Muhammadu Buhari-led Government was determined to meet the overarch objectives of poverty eradication and the empowerment of rural women and girls for sustainable development, inherent in Agenda 2030.
According to her, the Nigerian Government has taken rigorous steps to initiate and strengthen policies, institutional frameworks, systems and mechanisms aimed at achieving gender equality and empowerment of women and girls.
She said some of the implementable strategies were designed to harness the socio-economic potentials of Nigeria's 83.3 million female population.
Al-Hassan said the development and launch of Economic Growth and Recovery Plan gave prominence to the inclusion and empowerment of women in the rural areas and linked national development strategies to Agenda 2030 in an integrated, multi-sectoral and multifaceted manner.
On Girl-Child education, she said government wad implementing with more vigour a universal basic education programme strategically directed at enhancing girl child education at the grass root level.
She said the implementation of the N-Power job Creation and Youth Employment Programme, which targetted gainful and sustainable employment for 500,000 graduates and 100,000 non-graduates, had taken off successfully in the country.
"Consequently 200,000 N-Power graduates have been successfully deployed to serve in local communities in the country with another batch of 300,000 graduate volunteers already pre-selected," she said.
Al-Hassan said additional 10,000 artisans were being trained in the construction and automobile sub-sectors in close collaboration with the Council of Registered Builders of Nigeria and the National Automotive Design and
Development Council.
She said government was implementing the implementation of the Conditional Cash Transfer scheme, aimed at providing one million poor and vulnerable households with N5,000 monthly cash transfers to the "care givers of households".
"As at December 2017, over 622,649 identified poor and vulnerable households have been enlisted in the programme with over 439,859 captured in the National Social Register from 233 Local Government Areas across 23 States.
"Of these figures, 293,973 caregivers from 9,567 communities have been paid, with over 25,000 beneficiaries already accessing requisite skills through trained community facilitators.
"The Home Grown School Feeding programme, also part of the social investment programme is designed to provide one nutritious meal a day to 5.5 million school children, including girls in classes one to three of public primary schools is progressing.
"By December 2017, over six million pupils are being fed daily nationwide. The programme has trickled down financial incentives to local farmers and cooks, who are mostly women," the minister said.
She said the Government Enterprise and Empowerment Programme and the National Women Empowerment Fund, also under the government's Social Investment Programme, were designed to provide 1.66 million dollars micro credit, lending to businesses at the bottom of the financial pyramid.
According to her, the soft conditions of zero collateral, zero interest and only five per cent administrative fee attached to the loans had resulted in the disbursement of over 250 million dollars loans
directly to beneficiaries as at December 2017.
The minister disclosed that plans had been concluded to establish eight technology innovation hubs across the country, to extend technology to rural communities.
"Already, a pilot Adamawa Humanitarian Innovation Hub, known as the North East Makeathon Company, was opened in the last quarter of 2017, while the Lagos Climate Change Hub, designed to facilitate generation of ideas on renewable energy and reduction of pollution, is set to commence in March 2018.
She said conscious of the centrality of the empowerment of rural women and girls to the realisation of objectives of the 2030 Agenda for Sustainable Development, AU Agenda 2063 and the Beijing Declaration and Platform of Action, Nigeria would redouble efforts to improve access to productive resources for rural women and girls and ensure the protection of their fundamental rights. (NAN)
The post FG releases N43.92bn to 330,000 rice farmers appeared first on Vanguard News.