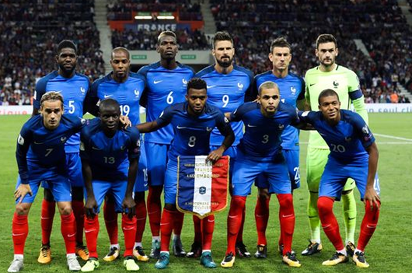 France clinched their place at the 2018 FIFA World Cup Russia by topping Europe's Group A, continuing a run of appearing at every tournament since 1994.
FIFA Ranking: 7
Continent: Europe
World Cup History:
Qualifying Campaigns: 17
First stage appearances: 14
Semi final appearances: 5
Finals: 2
Titles: 1
First World Cup: 1930
Last World Cup: 2014
Best outing: Champions (1998)
Key Player: ANTOINE GRIEZMANN
The France forward will be out to make his mark on another major competition, having been top scorer and player of the tournament at UEFA EURO 2016. Griezmann provided four goals and four assists for Les Bleus in the Russia 2018 qualifiers.
MATCHES:
June 16: FRANCE vs AUSTRALIA
June 21: FRANCE vs PERU
June 26: DENMARK vs FRANCE
NEXT PROFILE (Tomorrow): AUSTRALIA
The post FIFA World Cup (24 Days to go) : Team Profile – FRANCE appeared first on Vanguard News.