By Prince Okafor
Chairman of the Federal Inland Revenue Service (FIRS), Mr. Tunde Fowler, has advised prominent Nigerians with tax liabilities to take advantage of the Voluntary Assets and Income Declaration Scheme (VAIDS), as political, social or economic prominence will not insulate them from sanctions for non-declaration. Fowler gave the advice in an interview in Lagos  on Saturday.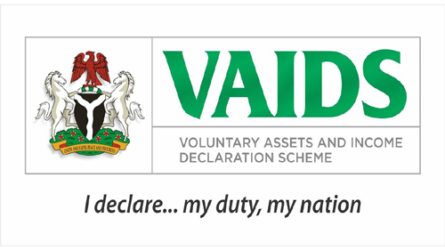 Speaking to some journalists in Lagos last weekend, Fowler said VAIDS offers all categories of tax debtors the opportunity to regularize their tax status and warned that failure to take advantage of the tax amnesty programme, which ends on 31 March, 2018, will attract a number of sanctions. These, he said, includes payment of penalties and interests on owed taxes, tax audits and prosecution.
Asked if Nigerians with strong social and political connections will not escape sanctions for failure to comply with VAIDS, Fowler said the laws against tax avoidance do not respect political, social or corporate positions.
He also stated that neither President Muhammadu Buhari, who nominated him as FIRS Chairman, nor Vice President Yemi Osinbajo, who heads the Federal Government Economic Team, has given instructions that that tax-owing influential Nigerians be treated differently.
Fowler warned that the government is ready, willing and able to take tough actions against individuals and corporate entities who neglect to take advantage of VAIDS.
He stated: "I am a nominee of the President. I was confirmed by the Senate. We work with the Vice President who is the head of the Economic Team, and the Federal Ministry of Finance. We have not been instructed to avoid, on account of political or corporate position, taking necessary actions to recover taxes.
"I do not think it will happen. VAIDS is for all Nigerians old enough to pay tax. It will speed up development of the country," said Fowler.
The FIRS boss said that many Nigerians with tax liabilities are approaching the FIRS and state revenue authorities to express their intention to declare their income for the purpose of VAIDS.                       He counselled those who are yet to take the necessary steps to do so before the window of opportunity closes, as there will be no hiding place for defaulters.
He stated that tax authorities are in possession of huge volumes of transaction and financial data obtained from banks, payment platforms and government agencies.
The post FIRS lists actions against tax defaults post – VAIDS appeared first on Vanguard News.