Andres Iniesta announced on Friday he will leave Barcelona at the end of the season after 22 years at the club.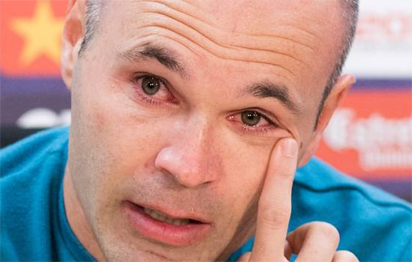 Here, we look at five key questions around the Spaniard´s departure.
Why is he leaving now?
Iniesta was awarded a "lifetime contract" by Barcelona in October, allowing the Spaniard the chance to decide when he felt it was the right time to leave. That responsibility may have played on Iniesta´s mind because he admitted the main motivation behind his decision was to finish at his best, while he was still winning titles and before he started to "deceive" the club. Iniesta has been one of Barcelona´s key players this season, but he was determined to go out at the top.
Read Also: Iniesta breaks hearts with Barca farewell
Where will he go next?
Iniesta revealed in March he had an offer to move to China, with Chongqing Dangdai Lifan the club expected to win the race for his signature. But the 33-year-old said on Friday there were still details to be finalised on his next move, perhaps with a view to the negotiations to come. Interested European clubs will be disappointed, however. Iniesta reiterated he will never play against Barcelona, adding "all scenarios not in Europe are possible."
Will he still play at the World Cup?
If selected, and he will be, Iniesta will play for Spain in Russia. After finishing at Barca with what will almost certainly be a domestic double, he will hope to end his international career lifting the biggest prize in the game. The expectation is he will then announce his retirement from international football, with a glittering trophy cabinet that already boasts the World Cup in 2010 and the European Championships titles from 2008 and 2012.
How will Barca replace him?
In short, Iniesta is irreplaceable. His influence off the pitch at Barcelona, as well as on it, has been enormous, as demonstrated by members of the first team and the club´s board attending his press conference on Friday. Philippe Coutinho, signed for 160 million euros from Liverpool in January, is perhaps most similar in style but it would be too big a burden to expect the Brazilian to step into Iniesta´s shoes. Barca will have to find a new direction.
How will he be remembered?
At his peak, Iniesta was a symbol of Spanish possession-based football and to this day, many maintain he should have won the Ballon D´Or in 2010, when he finished second to Lionel Messi. Off the pitch, Iniesta has always been a quiet and unassuming individual but that has not diminished the affection felt for him by fans. Even supporters of Espanyol, Barca´s bitter rivals, applaud the midfielder after he celebrated his World Cup winning goal in 2010 by lifting up his shirt to reveal a tribute to Dani Jarque, Espanyol´s captain who died the previous year. It was a touching gesture and as good a way as any to sum up Iniesta.
AFP
The post Five questions as Iniesta announces Barcelona departure appeared first on Vanguard News.