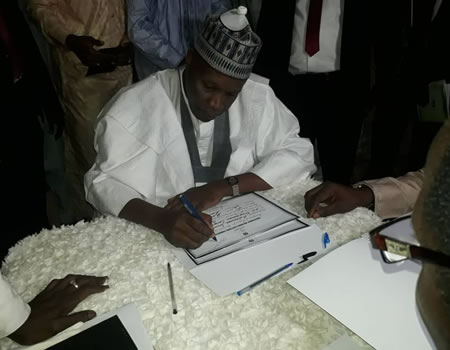 Gombe State Governor-elect, Alhaji Mohammed Inuwa Yahaya has been charged not to betray the trust bestowed on him by the people of the State who elected him into the office just as he received his certificate of return from the Independent National Electoral Commission (INEC).
The charge was made by the National Commissioner in charge of Bauchi, Gombe and Yobe States, Alhaji Buba Shettima Arfo, while presenting certificates of return to Gombe State Governor-elect, Mohammed Inuwa Yahaya and his Deputy, Manasseh Daniel Jatau as well as 24 State House of Assembly members-elect on Friday.
Shettima Arfo who praised the democratic development in the country where every vote now counts told the Governor-elect that, "the people have struggled through their votes and you are the expression of that struggle, you must not fail them".
Earlier, the INEC Resident Electoral Commissioner for Gombe State, Alhaji Umar Ibrahim said the election in the state could not have been peaceful and successful without the corporation and contributions of all stakeholders in the State.
He particularly thanked the Emir of Gombe, Alhaji Abubakar Shehu Abubakar the role he played during the political campaigns and the election proper where he rigorously enjoined his people to come out to vote and conduct themselves peacefully.
While responding, the Governor-elect, Alhaji Mohammed Inuwa Yahaya, expressed happiness with the Democratic process that brought about the occasion.
He commended the people of the State for their peaceful conduct before, during and after the election and also called on them to continue in that spirit.
Alhaji Inuwa who described his incoming administration as a " product of true democracy", extended his hand of fellowship to all those that contested with him but failed. He called on them to join hands with him in taking Gombe to the next level.
The post Gombe governor-elect, Inuwa Yahaya receives Certificate of Return appeared first on Tribune Online.