Eden Hazard dropped a hint he is willing to stay at Chelsea next season as the FA Cup winner set his sights on more silverware.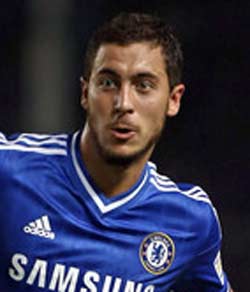 Hazard scored the first-half penalty that fired Chelsea to a 1-0 win over Manchester United in Saturday's FA Cup final at Wembley.
The 27-year-old has two years remaining on his current contract with the Blues, but last week the Belgium playmaker admitted he wanted to see who Chelsea signed in the close-season before agreeing to a new deal.
That sparked renewed talk that Hazard would consider leaving Stamford Bridge, with Real Madrid among the clubs interested in his services, following Chelsea's failure to qualify for next season's Champions League.
But Hazard's role in Chelsea's FA Cup triumph — the first time he has won the competition — might have given him pause for thought as he targeted the Premier League title next term.
"We have a lot of top players, players who are used to winning trophies. We will be ready next season," Hazard told the London Evening Standard.
"I think all of the players and the club want one thing and that's to win the title.
"Of course we will see if we can bring in some new players. But we will be focused on winning the title."
Hazard has two Premier League titles with Chelsea since arriving in 2012.
But he knows Chelsea need significant improvement to emulate those victories after they finished fifth — 30 points behind champions Manchester City, who became the first English top-flight team to reach 100 points en route to the title.
"If City keep playing like this, it is going to be hard, but you never know in football," Hazard said.
"It is always hard to win the league one season and then win it again the next year.
"Can winning the FA Cup in the last game be taken into the start of next season? Yes, of course."
The post Hazard targets title to hint at Chelsea stay appeared first on Vanguard News.