By Johnbosco Agbakwuru
ANYTHING that will be good and enduring will have challenges. And in those three focal areas that the government has set for itself, a lot has been achieved despite the challenges.
In economy, you know that the National Bureau of Statistics just came out with the report that the economy made 1.9 per cent growth in GDP in First Quarterly of 2018. We also got to know that inflation has been on the downward radar for the fifteenth months running. Fifteen consecutive months inflation that got 22 per cent at a point, is now at 12.8, 12.9 per cent now.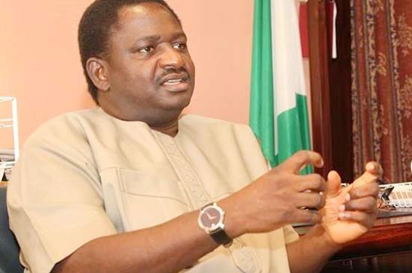 Adesina
So, a lot is being achieved on the economic front despite challenges. What were the challenges? Nigeria was a mono economy, all that we have for export  was oil. Oil prices crashed in 2014, continued to crash in 2015, 2016, 2017 it began to turn and it was at $40, $50 dollar per barrel at a time and eventually this year, it is about $80 dollars per barrel now.
Will it be sustainable? We do not know, but one thing we are sure of is that whatever comes into the coffers of Nigeria under this administration, will be used for the good of the people. Then you know the story of External Reserves, when this government came in May in 2015, it was $29.6 billion because oil prices crashed, it dropped as slow as low as $24 billion and that means Nigeria will not even be able fund her imports and it affect the value of naira to the dollar locally. But through transparency and accountability, we have about $47.5 billion in External Reserve now.
So, despite Nigeria earning about 60 per cent less than what it used to earn in the past two years consecutively, in the past two years consecutively, the country had earned about 60 per cent less than what it used to earn but we are doing a lot more than we used to do still spending on capital in 2016/2017. 2016 was about N1.2 trillion, 2017, by the time that budget is closed, we would have hit about N4.5 trillion.
Technical defeat
It has never happened before in this country. So, Nigeria is doing a lot more with a lot less in terms of economy and it shows that this government can be trusted, this government is transparent, this government is accountable.
On security, right from the compaigns in 2014 /2015 (early 2015), the All Progressives Congress had made it one of the platforms in which they campaigned, we will secure the country. As the President has said many times, you can't administer a country you have not secured. So, when he came remember that right from the inauguration day, he moved the headquarters of the war against Boko Haram to Maiduguri, it showed that he meant business and between 2015 and now, a lot had happened on the way of this insurgency.
The word that is being used is that they have been technically defeated or they have been degraded and that is the truth. You can't compare the war in 2015 with 2018. In 2015 even in Abuja, you were not safe, in Kogi you were not safe, in North East, north west, north central you were not safe, in the Federal Capital Territory, you were not safe. Bombs were going off like fire crackers. Now,  at a point they drove them out of North Central, drove them out or north west, drove them and confine them to a small part of North East, Yobe, Adamawa and Borno. Even at a time, they became circumscribed in just Sambisa forest. So when they were flushed out of Sambisa forest, they came back among civil population and that is why you see this bombing of soft targets once in a while. The difference between heaven and hell is the difference between 2015 and 2018 in terms of security.
Yes there are other areas of challenges, farmer/herdsmen crisis, kidnapping, armed robbery and all that, but one thing you cannot deny is that this government has the capacity to deal with those security challenges. I must also talk about some hidden hostile hands who operate under the security challenge to do evil. It is not all the killings that you see in the country that you can say are really done by the herdsmen. Some hidden hostile hands have crept in, they have engaged machineries, Boko Haram has infiltrated and they just want to cause disunity in the country and some are particularly targeted at the sitting government so that the people can be turned against the government. So, it is not everything that you see that is done by Fulani herdsmen.
They know that one of the strongest achievements or this government is security so they want to puncture it, that is why they are striking at the heart of security and they are particularly doing that in the middle Belt areas so that paraventure they can turn them against the administration before next year's elections but plenty people know better to that, people understand better than these people think.
On challenges of democracy, at nineteen years, our democracy, I will not describe it as fledging again, we use the world fledging democracy, I think our democracy is growing, it has not got to maturity but it is growing and I believe that whatever challenges that come up should be surmounted by the players themselves.
Challenges  democracy
In the past, whenever our democracy had challenges, there was some sort of truncation or the other, that is uncalled for again. Whatever challenges democracy will have, democracy will also resolve and I believe that.
Progressively one election has been better than the other except the elections of 2007 which was actually bad because the Obasanjo government said it was a do or die and it was actually a do or die even the person declared president, the late Umaru Musa Yar'adua confessed that the election that brought him to power was flawed but after that, one election has been better than the other and President Buhari has pledged that if the only thing he would do for Nigeria, and of course he will do many other things but if the only thing he would do, is to give Nigeria free and fair elections, he will do it.
Under him, how many elections have held in the state and how many did APC lose? APC lost in Anambra, APC lost in Bayelsa. It didn't use to be so, in this country, it used to be that the government at the centre will win all the elections, all bye elections. So, the President has said that he will bequeath free and fair election to Nigeria and it will happen.