The IAAF confirmed a new hyperandrogenism rule on Thursday that could prevent South African runner, Caster Semenya from competing in 800m and 1500m races.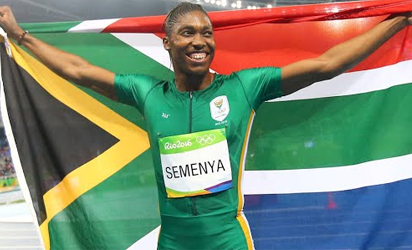 The new regulations lay down a series of criteria for athletes with a Difference of Sexual Development (DSD) to be eligible to compete internationally.
Under the rules an athlete must:
* be recognised at law either as female or as intersex (or equivalent);
* must reduce her blood testosterone level to below five (5) nmol/L for a continuous period of at least six months (e.g., by use of hormonal contraceptives);
* Thereafter she must maintain her blood testosterone level below five (5) nmol/L continuously.
Semenya, double Olympic and triple world champion over 800m and who completed the 800-1500 double at the Commonwealth Games this month, responded to the new rules on Twitter:
"I am 97 per cent sure you don't like me, but I'm 100 per cent sure I don't care."
Athletics authorities have struggled to find a solution to the issue that respected the rights of Semenya, while also providing what they says is a "level playing field".
Other athletes believe she has an unfair advantage because of the high levels of naturally occurring testosterone in her body.
But, under the new rules Semenya will either have to take prescribed medication to compete at her event or move to longer-distance running.
"We want athletes to be incentivized to make the huge commitment and sacrifice required to excel in the sport, and to inspire new generations to join the sport and aspire to the same excellence," said IAAF President Sebastian Coe.
These new regulations, approved by the IAAF Council in March, will come into effect from Nov. 1, 2018.
The post IAAF introduces new eligibility rule to cover Semenya appeared first on Vanguard News.