Lagos – Bobby Carter, an athletics coach in the Oral Roberts University, Tulsa, Oklahoma, on Monday said he would love to train more Nigerian athletes if he had the opportunity.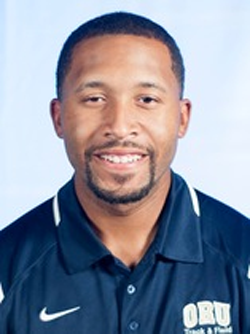 Carter said on telephone from the U.S. that he was blessed to be working with great talents who want to excel in their chosen careers.
"In terms of talents, I believe Nigeria has plenty of great talents, I see so many great athletes in Nigeria and I am sure that there are plenty more that no one knows about.
"I will say, keep doing what you all are doing because great things are coming from it as long as there is communication with coaches and athletes.
"And there is a willingness between the athlete and coach to get better and becoming a student of the sport. I will definitely like to train more Nigerian athletes,'' he said.
Carter, who coached the likes of Aniekeme Alphonsus (100m), Mercy Abire, a long jumper, praised the two athletes for their remarkable feats since they gained admission into Oral Roberts University.
"I am blessed to get to work with such great athletes who want to really succeed and be better.
"They have really improved since they have been here. Mercy jumped about one and a half foot personal best this year in the long jump (6.50m).
"She made major moves in the triple jump this year as well, which is pretty good for her first time doing the triple jump.
"Alphonsus has done great as well, her Personal Best in the 200m went down to 23.20secs and 100 went down to 11.25secs.
"We were just shy of our goals but I believe she is on the right path there. She is a gifted athlete and I know she can run sub 11 and 22 high in the 200m,'' Carter said.
The coach told NAN that he was highly optimistic on the prospects of the two athletes making Nigeria proud in future international meets.
"I see both of them representing Nigeria very soon. They are very competitive and they work very hard. I see them doing even bigger things soon,'' he said.
Carter said that his driving force was the energy he puts into the job.
"My driving force is the energy I put into practice, I'll like to also bring the competitiveness to practice as well.
"At the beginning of the year, I sat down with all of my athletes and we go through goals, short term and long term.
"I have them place it on their walls and I also place it on my wall as well. I do this because we are in this together.
"I hold them accountable and they trust me in doing so,'' he said.
He added that his target for his athletes was for them to achieve their goals in sports, education and life generally.
"My target for all of my athletes is for them to achieve their goals, not only just in the sport but also in the classroom and life itself.
"I want them all to become great young men and women and to go out into the world shining more than ever and teaching others to do the same.
"Some, have aspirations of representing their country for the world championships and Olympic Games and I want them to achieve that goal, and someday medals for their country,'' the athletics coach said.
Carter also urged athletics coaches in the country to communicate with their athletes and vice-versa.
"My advice will be communication; that is the biggest thing I believe in, without communication, there could be a lot of problems.
"Here in the U.S., we are very precise in our training and have a great yearly plan for the athletes.
"It makes things a lot easier when we all are on the same page and know what to expect from each other,'' he said.
NAN reports that Alphonsus is a 100m silver medallist at the 2015 Commonwealth Youth Games in Samoa.
She ran to a gold medal in the 4×100 relay, a silver medal in the 100m and a bronze in the 200m for Team Nigeria at the 2015 African Junior Athletics Championships in Addis Ababa.
Abire shattered her school's record on April 29, with a Personal Best (PB) of 6.43m in the Long Jump and 13.03m in the Triple Jump.
On May 11, the 21-year-old also leapt to a PB of 6.50m in Long Jump at Tulsa, Oklahoma. (NAN)
The post I'll love to train more Nigerian athletes, says U.S. Oral Roberts University Coach appeared first on Vanguard News.