BY JACOB AJOM
The President of the National Association of Nigerian Footballers, NANF, Harrison Jallah has hailed the Supreme Court ruling of Friday, April 27th, 2018 on the case between Chris Giwa and the Nigeria Football Federation.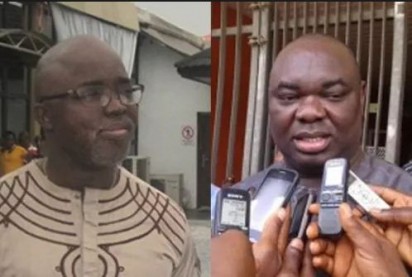 The apex court, in a unanimous judgement by a five-man panel of Justices led by the Chief Justice of the Fedration, CJN,  Justice Walter Onnoghen, directed the Federal High Court in Jos, Plateau State, to re-open hearing on the legal action that was initiated against the current leadership of the NFF by Mr. Chris Giwa
In his reaction, Jallah said, "there should be no confusion on the Supreme Court ruling as it has reaffirmed that Chris Giwa can relist his case contrary to an earlier ruling by the court of Appeal." Jallah continued, "in my opinion Amaju Pinnick was never in office in the eyes of the law".
The NANF boss insisted that the election that brought Pinnick to office should never have held because "a federal high court had passed an order restraining the NFF electoral committee from conducting the purported. Warri election through which the Pinnick Board emerged.
"In consequence of the disobedience of that court order the court nullified the purported election."
Jallah said, "the position of the law is clear Pinnick can no longer parade himself as president of the NFF as his election have been annulled by a court of competent jurisdiction."
The post Jallah hails NFF supreme court ruling appeared first on Vanguard News.