Lagos – Tricycle business in the country popularly called `Keke Marwa` is believed to be a male-dominated-transport business.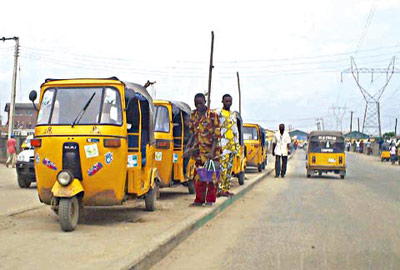 However, the perception is gradually fading off with the emergence of ladies as competitors.
Okota-Isolo and Surulere axis of Lagos State is faster becoming a world of female "Keke Marwa" riders who have defied all odds to beat unemployment.
Some members of the National Commercial Motorcycle and Tricycles Owners and Riders Association of Nigeria (NCMTORAN), Okota chapter, also spoke.
They said that the increase in women's participation in 'Keke Marwa' had brought respect anddignity to the work.
They told NAN in separate interviews that more women were now involved in the business and were also doing well.
"The business is a fair treatment to both male and female involved and there is no form of gender discrimination or inequality, says Sulaiman Ajayi, a rider and member of NCMTORAN.
When asked if he could allow his wife to also go into the business, his reply was in the negative with reasons.
"I respect wives who do this transport business, but I cannot allow my wife to be involved because she will be too hardened for my liking and the job can be sometimes strenuous.
"I prefer her trading in the market, "he said.
Another member, Kayode Salawu said no job was specially made for a man alone.
" The working environment of tricycle business is made conducive for both genders and it has brought about a balanced work force.
" We respect our female colleagues and we don't intimidate them because we have the experience more than them but we rather teach them, "he said
NAN correspondent was also opportune to get some female riders'views on why they launched themselves into riding "Keke Marwa".
Jennifer Nwanze, 25, was quite cheerful to tell her story, the spite herl working for hours under the scorching sun.
"I started this business two years ago with the help of my brother who introduced me to this business; he is also a "keke" rider.
"He saved enough money to buy three extra keke and I told him to teach me how to ride one since I was jobless.
"Riding has been fun and challenging since I started, and people will most times prefer boarding my keke than those of my male contemporaries.
"At least, this is better for me than going to sleep around with men for money, "she said.
Another female tricycle rider, Amaka Onyemechi, advised females to stop treating themselves as second class citizens so that nobody would take them for a ride.
" I owe my gratitude to the association of tricycle and Okada riders, Okota branch , which gave me the privilege to register my tricycle with them and started the business.
"My uncle gave me a loan that I used to buy my present tricycle and after a period of time, I was able to pay back and now the tricycle is mine.
"I will never regret that I am riding a keke, I am happy to be doing it, "she said.
Another female rider who did not want her name in print told NAN that the male riders within the association used to respect her.
The rider with a low-cut hairstyle who could almost be mistaken for a man told NAN that she did not face much challenges as was expected from her male members .
"Rather, the men respected me and always accorded me "Everybody respects me, even the police, taskforce, Agberos (touts), passengers and my male counterparts.
"If I can finish paying the money for this 'keke', I will buy another and hire it out to someone who will be riding it and be paying me daily just like I am doing now, preferably a woman, "she said.
NAN reports that tricycle as a means of commercial transportation in Nigeria was first introduced to LagosState by the administration of Brig. Gen. Mohammed Buba Marwa as its Military Governor from 1996 to 1999.
This led to the name "Keke Marwa", which commercial tricycle is still referred to in Lagos till date. (NAN)
The post "Keke Marwa": Women's involvement has brought respect, dignity to the job, says Association appeared first on Vanguard News.