The Vice-President of Kick-boxing Association of Nigeria, Roland Agamaye, on Monday called for more private sector partnership to further develop the sport in Nigeria.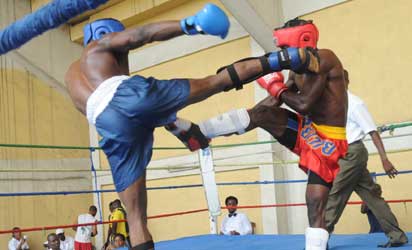 Agamaye told newsmen in Port Harcourt that kick-boxing had remained unpopular in the country due to lack of sponsorship and corporate partnership.
"The current situation, where most kick-boxers who appear at international contests are on self-sponsorship, is very discouraging.
"Governments, corporate individuals and the organised private sector need to play active roles in developing kick-boxing,'' he said.
Agamaye, who is also the Head Coach of Rivers kick-boxing team, said Nigeria would perform better in international championships if stakeholders deepened their support-base to touch the rural areas.
"Nigerians are very strongly-built people. We are physically endowed and naturally positioned to make impact in this sport.
"What we have lacked over time is the necessary support. We have also not done well in talent-hunt, we need to bring more young people into this area,'' he said.
Agamaye advised the younger generation of Nigerians to make themselves available to make an impact in the sport.(NAN)
The post Kick-boxing association seeks partnership for more participation appeared first on Vanguard News.