By Rosemary Onuoha
LAGOS State government has released N838 million to pay accrued pension rights of 141 retirees under the Contributory Pension Scheme for the month of February, 2018.
Governor of Lagos State, Akinwumi Ambode disclosed this at the 48th retirement benefit bond certificate presentation ceremony at NECA House, Ikeja.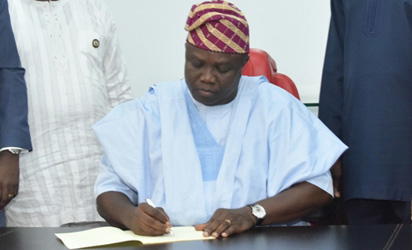 Ambode thanked the retirees for their diligent service to the development of the state and wished them a better life in their old age.
Represented by the Commissioner for Establishments, Training and Pensions, Dr. Benson Akintola Oke, Ambode said 8,548 retirees have accrued pension rights of N34,781 billion paid into their Retirement Savings Accounts since he came on board in 2015.
He implored the retirees to put their money in business they could manage and not one that would jeopardize their health.
He said, "The state government is committed to providing the retirees with incentives that will give them peace of mind in retirement.
Speaking during the welcome address, Director General, LASPEC, Mrs. Folashade Onanuga promised that the payment of the accrued pension rights will continue to be made monthly by the administration. 'The payment is well structured, very transparent and efficient, and is based on the law of equity. Hence, payment is made without the need for any retiree to follow up as we have all the information we need to ensure payment at the due time," she said.
The post LASG pays N838m to retirees in February appeared first on Vanguard News.