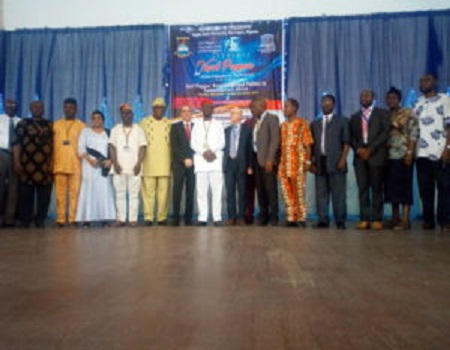 Prof Olanrewaju Fagbohun, Vice -Chancellor, Lagos State University (LASU) has urged political leaders in the country to practice an open social system of governance to make the world a better place.
Fagbohun said this at the Karl Popper for Africa International Conference and the United Nations Educational, Scientific and Cultural Organization (UNESCO) syndicated workshop, hosted by the Department of Philosophy, LASU on Friday in Lagos.
The theme of the Conference is: "Karl Popper, Knowledge and Politics in Contemporary Africa'' while the theme of the Workshop is: "The Open Society and its Imperatives For Peace and Security Governance In Nigeria''.
He said a nation where openness, transparency and inclusive governance was the order of the day, would enjoy peace, stability, progress and a more conducive environment where the society and its people thrived.
"The secret of the transformation experienced in our institutions of recent is because LASU is an example of an open society, where everyone is carried along.
"Philosophy is the underline of the society; though its concept may be confusing at times.
ALSO READ: Gombe governor-elect, Inuwa Yahaya receives certificate of return
"If indeed every nation keeps to the theme of the conference, the world will be a better place,'' the vice-chancellor said.
Fagbohun, however, wished the participants a successful deliberation and urged them to present their conversation in simple language understandable in the African context and not in theories and technical parlance.
The Keynote Speaker, Prof. Thaddeus Metz of the University of Johannesburg, said an open society was preferable because it prized an individual and permitted social arrangements to be critically evaluated.
Metz said in an open society, citizens had rights to choose their leaders and determine which laws are enforced.
"Popper defends open society as preferable because a closed society prizes the group and forbids social arrangements from being critically evaluated,'' he said.
Metz explained that African ethics of honouring people's capacity to relate communally entailed a political philosophy different from poppers.
He noted that both the African ethics and idea of a communal state were prima facie attractive.
Dr Oseni Afisi, Head, Department of Philosophy, LASU and Convener of the event, said the event was anchored on the philosophy of Karl Proper, aimed at addressing political problems in Africa, using Popper's ideology.
The News Agency of Nigeria (NAN) reports that Goodwill messages at the event were delivered by Prof. Adams Spitz of Karl Popper Foundation and Mr Yao Ydo, Regional Director, UNESCO office, Abuja, represented by Mr Hugue Ngatta.
Also, Prof. Jim Unah, President, Philosophers Association of Nigeria (PAN) also delivered a goodwill message, among others.
The Conference, which is sponsored by Karl Popper Charitable Trust, U.K and the Workshop being sponsored by UNESCO, continue till March 31.
The post LASU VC advocates open system of governance for society to thrive appeared first on Tribune Online.