By Ben Efe
Former 400m world record holder and 1968 Olympic champion, Lee Evans cannot fathom Nigeria's fall from grace into doldrums, and he has urged Nigerian athletics officials, to go back in history and learn how this country became a strong force in world athletics.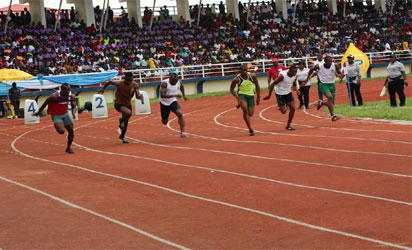 Lee spent his early coaching life in the 1970s and 80s grooming Nigerian athletes, a period that threw up world class athletes that rivaled America and Britain  regarded as power houses in athletics.
"It is very disappointing what we are seeing. Year in year out it is still the same athletes running the same times," Lee said during a sports debate programe on NTA.
"When Pa Isaac Akhioye was director of sports development, the country was doing well. We had training camps and good programmes, but there is nothing like that anymore.
"It is such a pity the high performance centres that they have are not producing any athlete, they have no programme and the coaches do not know what they are doing. Nigerian officials should go back in history and see how it was done. Things are not working at all."
Lee who returned to Nigeria in 2013 to team up with Bruce Ijirigho in Cross River State counseled Nigerian sports authorities to take a cue from former governor of Cross River State, Liyel Imoke and pursue an aggressive grassroots development of athletics.
"Cross River dominated the school sports festival for five years running. It was because they was a good programme. Many athletes were discovered and groomed one of  them won gold for Bahrain  at the World Junior Championships.
"There are young athletes who have potentials to represent Nigeria, but they have no funding.  "Bahrain pays athletes 500 dollars a month and in Nigeria they feel that that too much to give an athlete?
The post Lee Evans decries poor state of Nigerian athletics appeared first on Vanguard News.