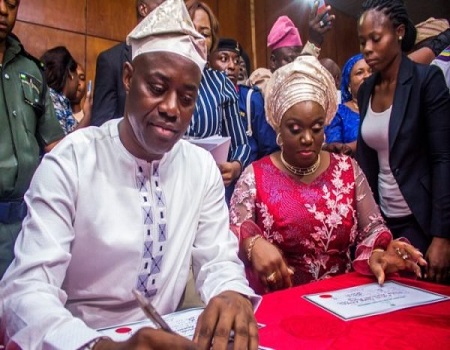 Oyo governor-elect, Mr Seyi Makinde; his deputy, Mr Rauf Olaniyan and all elected members of the state House of Assembly, on Wednesday, received their certificates of return with National Electoral Commissioner, INEC, Oyo, Osun, Ekiti states, Mr Adedeji Soyebi lamenting the low turnout of voters in the 2019 election in the state.
Speaking at the event held at Premier Hotel, Ibadan, Soyebi said it was high time traditional rulers, religious leaders, political leaders, community leaders and other stakeholders begin to work to improve the participation of eligible voters in the 2023 election.
With 940,211 accredited voters participating in the election as against 2,176,352 registered voters, Soyebi said it was worrisome that the number of those who voted on election day was less than half of the registered voters.
Noting that the 2023 election was 1,409 days away, Soyebi tasked the elected political office holders be guided by the fact that they will be voted out if they underperform, hence should deliver on their promises to their constituents.
Speaking in the same vein, state Resident Electoral Commissioner, Mr Mutiu Agboke urged elected officials not to betray the expectations of their constituents who bore discomfort, intimidation and harassment to vote them in.
ALSO READ: INEC presents Certificates of Return to 26 elected Ekiti lawmakers
He assured of the resolve of INEC to improve upon the electoral process, noting that the commission was set to hold workshops where it will critically analyse its activities alongside reports from domestic and foreign observer missions.
Arising from the general elections in the state, Agboke reported that a total of 17 petitions were before the Oyo State election petition tribunal, comprising four senatorial and 13 house of representatives petitions.
Speaking on behalf of all elected officials, Makinde said he had rolled up his sleeves towards ensuring all-round improvement in the lives of residents of the state.
He commended security agencies, electorates, politicians for their comportment that ensured that the state's elections were concluded on the first ballot.
Makinde also assured of working with all members of the state Assembly irrespective of their party leanings.
Members of the 9th 32-member state Assembly who received their certificates of return include Honourable Wumi Oladeji, Ogbomoso North constituency; Honourable Adebo Ogundoyin, Ibarapa East; Adebayo Babajide, Ibadan North 2; Oyekunle Fola, Ibadan North 1; Fadeyi Abiodun, Ona Ara; Bamigboye Jacob, Oriire; Mobaje Rasak, Ido; and Adedibu Hakeem, Iwajowa.
Addressing journalists, returning and only female lawmaker in the next Oyo Assembly, Honourable Oladeji decried the continued decline in female representation in politics, urging women to be keen on swimming through the political waters to hold political offices.
The post Makinde, Olaniyan, others receive Certificates of Return in Oyo appeared first on Tribune Online.