insists: 'I have no problem with Mourinho'
Paul Pogba insisted Sunday that he has no problems with Manchester United boss Jose Mourinho despite a difficult season which has seen the French star dropped on several occasions.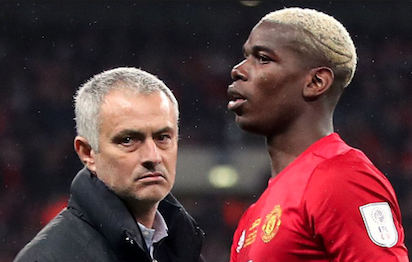 Pogba, who has even been linked with a summer move away from Old Trafford, said that he always accepts Mourinho's decisions and that the best response he can make to being snubbed is to improve on the pitch.
"I have no problem with Mourinho," Pogba told Canal+ on Sunday.
"I also believe that he has no problem with me. He is the coach, he makes the decisions. Me, I am a player, I accept it and I have to respond on the pitch, that's all."
Midfield star Pogba revealed that Mourinho never explains why he is getting dropped or substituted in a match.
"No, it all depends on the coach. There are some who like to talk to the players. Mourinho, when he makes a choice, you have to accept it."
Pogba has been in and out of the United team as Mourinho sought to chase down rivals Manchester City, who ran away with the Premier League title.
Eyebrows were raised when he started both legs of the Champions League last-16 tie against Sevilla on the bench, and could not prevent United from being eliminated when he did come on.
He was then widely criticised for a lacklustre display in a 1-0 home loss to West Bromwich Albion which handed the title to City — the latest in a long line of disappointing efforts from the former Juventus star since his move to United two years ago.
There was even talk that Mourinho has told United to put Pogba up for sale, just days after City manager Pep Guardiola said he had been offered the chance to sign the midfielder by his agent in January.
But Pogba said he understood Mourinho's decision to tinker with his line-up.
"There is a system. Sometimes, if you have to defend, you must defend. Mourinho has made me captain, he gave me the keys, the responsibilities at a great club like Manchester United," added Pogba.
"For the time being, I am at Manchester United and I am only thinking about the present. We are in the FA Cup final, I have a World Cup to come.
"Transfers, all that sort of thing, are not on my mind."
The post Mourinho, when he makes a choice, you have to accept it – Pogba appeared first on Vanguard News.