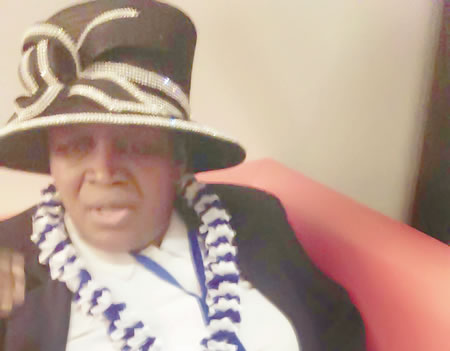 Your unique all-round scholarship story is very intriguing.
This story is better told from my early age. I went to primary school as underage. My parents told me that every day when my brother was going to school, I would be crying that I would also go to school. You know then and even till now, you have to beat a child to go to school because, normally, children don't like to go to school. But my own case was different. So, one year ahead of time, my parent took me to the headmaster and appealed to him to create a small separate space for me to put my chair at the rear back of the class. That was how I was for a whole year. I would listen to them as if I were part of the class. And during exam, I was allowed to sit for exam with others. Surprisingly, I came first in the whole class. So, they had no option than to promote me. They said doing otherwise would be against the law of natural justice. That was how I got promoted to primary two. But by the time I was in primary six, my father was a manager in a company and he was used to being transferred from one place to another. He was transferred to Ilesa, now in Osun State. So, I went to Government Teachers Training College Demonstration School (GTTCDS). It was a free-tuition school. There, I took the national common entrance examination and I came first in Western Region. When we went for interview, I was given admission into Queen's College, Yaba, Lagos. Fortunately for me, and by God's benevolence, that same year, the company where my father was working, which had never awarded scholarship to children of staff members before, called the entire staff to a meeting and decided that staff's children be given scholarship. So, that was how those of us children of staff who were seeking admission into secondary school were asked to sit for exam. Again, I came first.  They eventually picked three of us, myself and two others who came second and third in the exam. But something also happened after my ordinary level, the company decided to extend the scholarship to cover two years for Higher School Certificate course and it was only me out of the three of us that benefited. So, when I finished 'AL', I was awarded a Federal Government Scholarship to study Mathematics in the University of Ibadan.  And after my first degree, the University of Ibadan itself awarded me a scholarship for postgraduate studies in Mathematics up to Ph.D. at the University of London. So, throughout my life, I have been on scholarship. My parents did not pay any school fees on me and they really thanked God for that.
What was the financial status of your parents?
My parents were not poor. They were average and could afford to send me to school.  But I was only a child who had that opportunity among my siblings and all glory be to the almighty God.
Those opportunities you had are now thinning out in the country.
It is something else. Young people with intellectual capability should be encouraged by giving them scholarship to any level. It is not they alone that will benefit from such knowledge and skills, but also the country and the society at large. It is not money wasted if brilliant children and young adults are offered automatic scholarship.
Lecturing, family and socials must be a tough combination.
Well, it is simply by the grace of God. But I will explain something. It was the Bible that taught me how to manage myself. I do hear people say you cannot do more than one thing if you want to be good in it. But I studied the parable of talents in the Bible. Some have one, some have two and some have five, according to their ability.  And everyone has to give an account of stewardship. But we should understand that God doesn't encourage wastage. So, what I discover is that God always helps me. What should have taken me about an hour to do, God will give me ability to do it in about 10 minutes. So, I am able to do four or five things together and do them very well while some may still be struggling with one. So, when God gives you ability or talent and you go back to Him to ask for strength, He will definitely help you. I still go to kitchen. I cook for my husband, do many other things at home and also function effectively in the service of God as a Christian. I do them with no stress. It is God who gives the talent that supplies the enablement.
There must be something that gives you joy.
I can interact with anybody no matter who he or she is. Because I can see something that makes them also human beings like my humble self. I love young people especially. This is because many of them are just coming up and need encouragement. Just a little encouragement can take somebody up to high level in life.  Many of them are not encouraged from home, vicinity or society. Some people culture is that children or women can only be seen and not heard. But that is not for me. So, helping people on their way to the top without thinking of personal gains, gives me joy.  That is why I wonder when our political leaders are reading what they claim to have done for people from papers. It shows that they have not done anything tangible. Because if truly you did something for somebody yesterday, you should be able to say it off hand any other day.
Who do you think your students say you are?
I believe they see me as their lecturer, who demands hard work from them. I know anyone who wants to be under my tutelage must pay the price. You just have to work very hard because I'm not a lazy person. I don't cut corner to get what I wanted, and same goes for whoever wants to work with me. So, how are you going to be lazy when I am not? If I am your supervisor, for example, you must have to do thorough job to give me fantastic project. Those who had passed under my tutelage know this. They would say 'mama' would push you and make you work hard. And truly I will and they don't find it pleasurable. But at the end, they would come back to thank me for the way I tutored them.
You must still remember your first classroom experience.
When I came back to the University of Ibadan after my Ph.D. from the University of London, the school asked me to teach all levels. They didn't even say I should start small. So, it was a big challenge for me. But without long, I was able to cope through hard work and was getting better each day. So, the lesson I learnt from there is that when somebody throws a big challenge at you, it is an opportunity to grow faster. Because if they spoon-feed you, you are likely to grow at a snail speed.
Mathematics is a demon-subject for many. What secrets do you share with the young ones, who get scared by it?
I will tell them to work hard and that teachers should try as much as possible to always simplify the work. They should come to class with enthusiasm and not with frowned faces. Teachers should not tell their students that they would not be able to understand a topic, and put in efforts to teach students in a way they would be able to understand the subject. Maths is not a difficult subject. But when a teacher is calling a student dullard, that student will feel discouraged and give up on the subject.
Is that why many are failing it?
It is a function of many things. But let me say this very important one: some students don't have good teachers to teach them the subject. Mathematics is not a difficult subject to understand. That is why I believe that teachers have a great role in this respect. Because if a teacher scares a child from a subject, that child may be lost forever. Similarly, if somebody studied Geography or History, and is now being assigned to teach Mathematics, this may cause a serious problem. Because he or she is not a Mathematics specialist, he may not be able to teach the subject effectively. And mind you, because he or she was not also properly taught while in school, the effect will pass on to the next generation. So, we must have the right person to teach the subject – persons who are specialists and have passion and love for the subject, and not just anybody. By that, many students would do well in the subject.
Mathematics and marital life, how did you blend both?
It was interesting and somehow funny. When I decided to study Mathematics, many people came to my father and told him I would not get a husband. That no man would like to marry a mathematician. So, my father laughed over it and I went ahead to study Maths. As God would have it, I married at 21. And I didn't have to go and look for husband, it was husband who came to me. You can imagine that! I, who people predicted would not get a husband as a mathematician, have a very loving and caring husband without stress. My husband is an engineer. Now, our marriage is more than 40 years and we are still waxing stronger by the day. You know, God is very wise, but many of us believe we are wiser than Him. Many want to disobey God and still have the best of life. Things cannot work that way. Though you may have some good life, it cannot be the best. It is only when you do things in God's way that you will get the best. No matter how little you start, the end of a journey is the most important.
There must be something you found fanciful in him then.
Honestly, when my husband and I started, we didn't have anything. But today, we are grateful to God for what He has done and still doing for us. If we were married because of wealth and material gains, only God knows what would have happened.  Many people even proposed to me and some from wealthy but polygamous homes, and I didn't want to end up in one. Some also believe in divorce and I didn't want to be a divorcee and all that. Mind you, I didn't say I must marry from my village. My husband is not even a Yoruba man, while I am an Ijesa woman.  But his family was a good example. They stayed together happily and that was what mattered most to me. Because once you have a stable family, you can rise to any level in life. But when you are disrupted here and there, you cannot go far. You will be moving from one place to another and your heart will not be settled. But godliness with contentment will take you to your desired destinations in life.
That is why I like to tell young people that when you enter into a marriage, you should not consider what you will gain from each other as priority rather what value to add to make your partner gets what he or she lacks. Because thinking about the gains may get you disappointed. So, my thinking was about what I could add to his life so that his family would thank God for having me in their family and they really thanked God.  Now our both parents are late. But before they died, both sides held us highly. His parents knew I was not looking for anything but to add value. So, a wife should be a virtuous woman to her husband. Will such kind of love ever end?  No. But if you say you must have to buy me six cars to marry you and the whole six cars are stolen, that will end that marriage. But if you say I am coming into this person's life to make his or her life better, would there be an end to that love? So, I have never looked back on my husband, and he too has never looked back on me. We add values to each other and that is why one day togetherness becomes two days, three days, one year, 10 years, 20 years, 30 years, 40 years and that is how our years together will continue to increase until God calls us home. As I am here now (Lagos), he has been phoning me and l told him he should enjoy his meal of egusi (mellon) soup that I had prepared for him before leaving home. That is my life. I am contented and so also is my husband.
But your colleagues in ASUU aren't always content with what their employers are offering.
It is a pity that we are in this mess as a country. How would a government sign an agreement voluntarily and renege on it for 10 years. It is not a good thing. That is why character comes into play in this matter. If a person makes a promise, does he or she follow it up? If yes, that is a good character.  But in the issue at stake, how would government make an agreement so that lecturers would go back to work without having mind of fulfilling such agreement. To me, that is 419. When I went to the UK to study, I saw what university system should look like. There is nothing wrong if we have working university system also in Nigeria. It is unfair that those who enjoyed good education during their times are now removing the ladder. Some people are very brilliant but their parents cannot afford state universities let alone cheapest private universities.  Do we then deny such students quality education because of school fees? No.  So, let government put enough money into education. That is how we can grow economically as a country. And the citizens will love the country and be patriotic.
Why are you not part of the greener-pasture train?
It is simply because of my love for Nigeria. I would have gone abroad for long if I had wanted to. Because anytime I travel abroad, they would want me to stay back but I would insist on coming back; that I must be part of those who will train the next generations. And that is what I have been doing for over three decades. The other little impact I am making on the less privileged in the society may also not have been possible if I were to be abroad. Life is not about you and your family alone, but about your impact in the society.
The post My parents did not pay any school fees —Ugbebor appeared first on Tribune Online.