North Korea's athletes took centre stage as the biggest Winter Paralympics 2018 in history opened in South Korea on Friday with a glittering ceremony after a rapid round of diplomacy hit dizzying heights.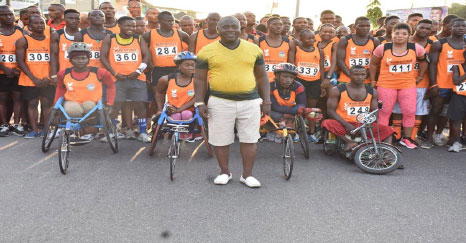 After spectacular light shows and fireworks, cross-country skiers Kim Jong Hyon and Ma Yu Chol entered as North Korea's first Winter Paralympians. The ceremony took place as the world digests the news US President Donald Trump has agreed to meet Kim Jong Un.
The wheelchair-bound skiers appeared at the same temporary stadium in Pyeongchang, about 30 miles (50 kilometres) from the heavily fortified inter-Korean border, where Kim Jong Un's sister attended the opening of last month's Winter Olympics.
It proved to be the trigger for a series of conciliatory steps between the two Koreas, who remain technically at war, culminating in Thursday's announcement at the White House.
North Korea's first Winter Paralympians did not appear alongside South Korea's team, as happened at the Winter Olympics opening ceremony, after a row over the blue-and-white Korean unification flag.
North Korea pulled out of the joint march after South Korea decided to remove islands claimed by Japan from the flag, which depicts the Korean peninsula.
The teams from the North and South entered separately under their own flags during the athlete's parade in the opening ceremony Friday, which saw competitors from 49 countries march into the Pyeongchang Olympic Stadium.
But the disagreement is considered a minor sticking point after what has been a swift thaw between the neighbours, starting with North Korea's decision in January to participate in the Olympics.
It is quite a turnaround from last year, when Pyongyang tested missiles that could reach the US mainland and detonated what it said was an H-bomb, sparking fury from Trump who threatened to "completely destroy" the North.
– Glittering ceremony –
At Friday's ceremony, South Korean President Moon Jae-in officially declared the Paralympics open in sub-zero temperatures before fireworks lit up the night sky.
There were also light shows, as well as traditional South Korean performances and modern dance.
Several of those performing had disabilities — a drummer with a prosthetic arm and legs beat a giant traditional drum, and a choir of wheelchair-bound performers sang the South Korean anthem.
In an opening address, International Paralympic Committee (IPC) president Andrew Parsons urged the Paralympians to "keep fighting, play fair, have fun and keep pushing your limits.
"Your extraordinary stories are what dreams are made of and will be told for years to come."
The ceremony culminated in the Paralympic flame being brought into the stadium, and a "moon-shaped", white cauldron being lit.
There are 567 athletes at the Games competing in 80 medal events across six sports: alpine skiing, biathlon, cross-country skiing, ice hockey, snowboard and wheelchair curling.
Some of the adapted sports have become hits with spectators, such as fast and furious para ice hockey where competitors slide around on double-bladed sledges.
Among the athletes are 30 neutral competitors from Russia, which remains suspended by the IPC over a mass doping scandal.
As well as North Korea, Georgia and Tajikistan are taking part for the first time in the nine-day Games.
Paralympians are an eclectic bunch, ranging from a 61-year-old Japanese ice hockey goaltender to a Mexican who found unlikely success as a mono-skier.
American snowboarder Brenna Huckaby, who lost her right leg below the knee, made headlines when she featured in Sports Illustrated's swimsuit issue.
The first events will take place Saturday, with athletes competing in downhill skiing and biathlon. The Games run until March 18.
The post N. Korea in focus as biggest Paralympics 2018 opens appeared first on Vanguard News.