The Naira on Monday remained stable as it traded at N362 to the dollar at the parallel market, same amount it was sold last Friday.
The Naira also closed against the euro at N481 at same market in Lagos.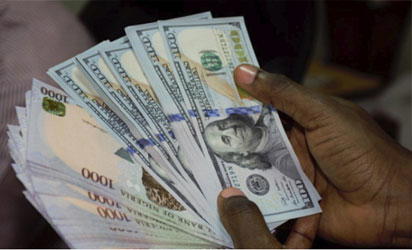 Newsmen report that at the Bureau De Change (BDCs) window, the Naira also recorded same stability.
It traded at N362 to the dollar, while the euro was sold at N482 since last week.
Data from the Financial Market Dealers Quote (FMDQ) showed that the indicative exchange rate for the I&E was at N360.15 per dollar.
The exchange was an appreciation of 0.01 percent from N360.19 per dollar recorded last Friday.
The Central Bank Of Nigeria (CBN) rate closed at N305.95 to the dollar.
Some of black market operators and BDCs told newsmen that there was no figure for pounds.
They were skeptical about trading naira for the currency because of the banknote changes by Bank of England.
Newsmen recall that the old £10 note is set to go out of circulation on March 1, 2018.
However, old notes can still be spent ahead of the cut-off date or exchanged at the bank once the point has passed.
The old paper fivers went out of circulation on May 5, 2017.
NAN
The post Naira remains stable against dollar, euro appeared first on Vanguard News.